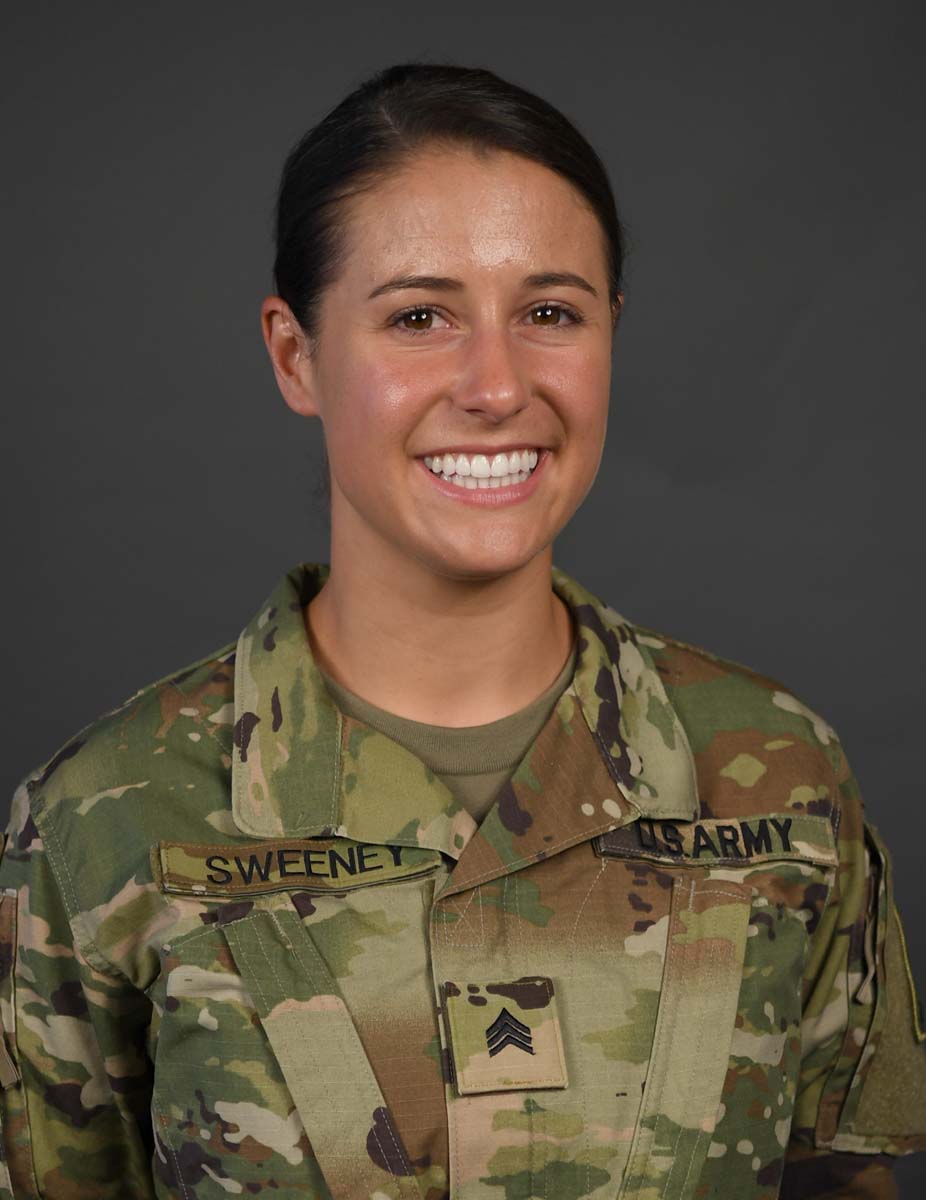 SGT Emily Sweeney
Luge Singles
Hometown:
Suffield, Connecticut
High School:
Suffield High School
Joined Army:
December 2011
MOS:
31B, Military Police
Emily's older sister Megan competed in luge, and showed Emily the possibilities of dedication to the sport. She tried out through the USA Luge Slider Search at the age of ten, and was an Olympic alternate in 2010. She joined the military the same year she graduated high school. Since then, she has competed on five World Cup teams, four World Championship teams, and an Olympic team.
Don't wait to start working towards your goals. They'll be here before you know it.
Career Highlights
World Championships Bronze Medalist, Women's Luge Singles
Olympian, Luge
The road to the 2018 Winter Olympics had been a long one for Emily. This was her third time through the Olympic trials process, but "getting there was huge," she says. A crash during the race ended her hopes for a medal that year—and though she walked away from it, she had sustained a broken neck and fractured back. They were "good" breaks, though, that didn't require surgery. "Though the race didn't go as I'd hoped for, I felt very proud of what I'd done," Emily says, "and now I'm back to training for World Cups and World Championships."
1st Place, Luge, Sprint World Cup
Member, World Championship Team.
In off years, lugers work to qualify for the World Championships, and Emily has earned team slots in 2013, 2015, 2016, and 2017. "Each year, I've learned a lot from those experiences," she says. Through each, too, she developed resilience. "Something will always go wrong—sickness, injury, equipment—so you've got to bounce back. You've got to be good in spite of it!" And she has.
National Champion.
Despite her hard work in the years leading up to the National Championships in Park City, Utah, Emily says her first place finish was a surprise. Plenty of luge veterans competed. "I was up against lots of heavy hitters," she admits. But in four runs over two days, her combined total time was the best of the group. The same year, she swept the podium with her US teammates at the Lake Placid World Cup. "It was really something special to be on the podium with my teammates, with our friends and family in the stands."
Junior World Champion.
Emily had already been competing at the senior level, but her coaches wanted her to go for the gold at Junior Worlds. "There was a lot of expectation because I was coming back down to the junior level for this competition. I would've been really disappointed if I hadn't done well," she says. No worries about that—a first place finish sealed the deal.