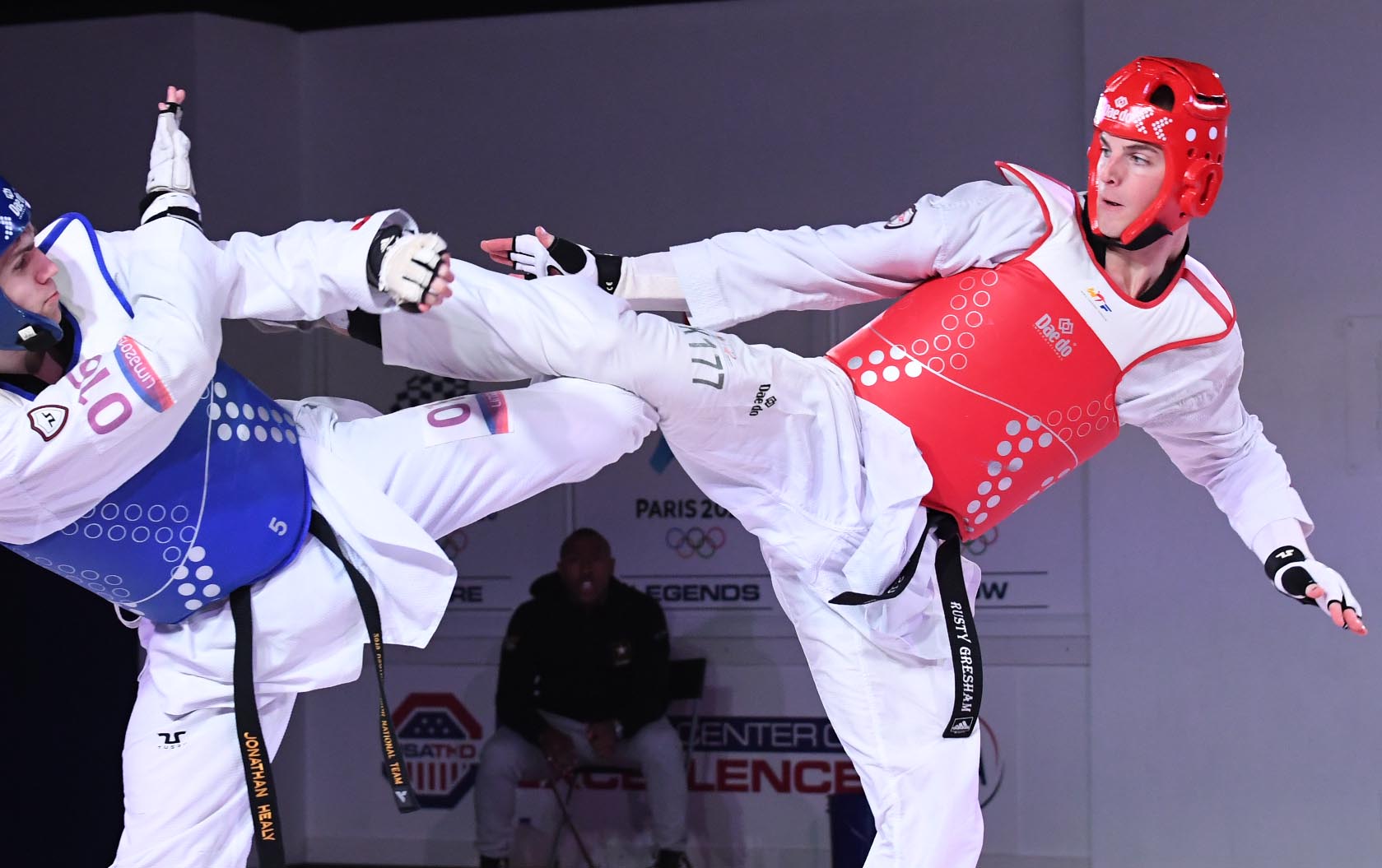 Taekwondo Soldier-athletes work toward Olympic dreams
By Ms. Brittany Nelson (IMCOM)January 17, 2020
The U.S. Army's World Class Athlete Program Soldier-athletes walked away with four first-place titles, one second place and one third-place title at the 2020 Taekwondo Grand Slam in Colorado Springs, Colorado.

The Soldiers competed in an elite tournament where only the top eight athletes of the country in each weight division were invited to compete. Along with a championship title, the Soldiers also earned points that help with the Olympic qualification for the 2020 Summer Games in Tokyo.

"We had a good game plan going in and you can see that from WCAP's results," said Spc. David Kim.

Pfc. Russell Gresham won first place in the men's heavy-weight class. Spc. Devon Lewis placed second in the women's feather-weight class. Spc. Charles Buset earned first place in the men's feather-weight class. Spc. Niklas Poland won first place in the men's welter-weight class. Spc. David Kim won first place in the men's fly-weight class and Pvt. Juancarlos Norzagaray earned third place in fly after facing Kim in the semifinals.

"It is phenomenal that each Soldier-athlete was about to get on the podium and show their dominance," said Sgt. Maj. David Bartlett, head taekwondo coach.

One fight in particular that was accompanied by an energetic crowd was Gresham's semifinal match where he fought and beat Jonathan Healy, the number one competitor in the nation and number seven in the world for men's heavy-weight class.

"Healy is my main competition in the U.S. for me to reach the Olympics," said Greshman. "It felt really good to beat him. I have been training a long time and working hard, it paid off today."

Another accomplishment for the team is Kim and Poland both becoming two-time Grand Slam champions. The Grand Slam tournaments are a series of competitions and the first was held last year where Kim and Poland won first in their weight classes.

"I worked really hard for this one," said Poland. "I was confident the whole time, I just played my game. It feels good for everyone to see that the Army is out there performing."

This Grand Slam was one of the last tournaments in which USA athletes can earn points to help with Olympic qualifications.

"This competition was part of the selection procedure based on points," Bartlett said. "Each of the athletes that won received about 160 points toward their domestic ranking that will justify them earning a berth into the Olympic trials."

The next step is for the U.S. to qualify as a country to compete at the Olympic Games. The qualification tournament takes place in Costa Rica on March 8. Soldier-athletes will be there competing for their chance to represent the USA and the Army at the Summer Games.

Even with the Olympics on their minds, the athletes still remember they are "Soldiers first," according to Spc. Terrence Jennings, WCAP taekwondo coach.

"Everything we do is based off of a 'Soldier first' mentality," said Jennings, an Olympic medalist. "We are up early and putting in the time just like any other Soldier. If they are not successful on the military side of their career then none of this would be possible."

Five Soldier-athletes were recently selected to attend basic leadership course. Kim, Lewis, Jennings, Buset, and Poland are awaiting a date to attend the course at Fort Carson.

The competitors plan to stay proficient in their military occupation while training to get to the 2020 Olympics, according to Bartlett.