Spc. Harris Clinches Gold at Pan American Games
10/25/2023
By Maj. Nathaniel Garcia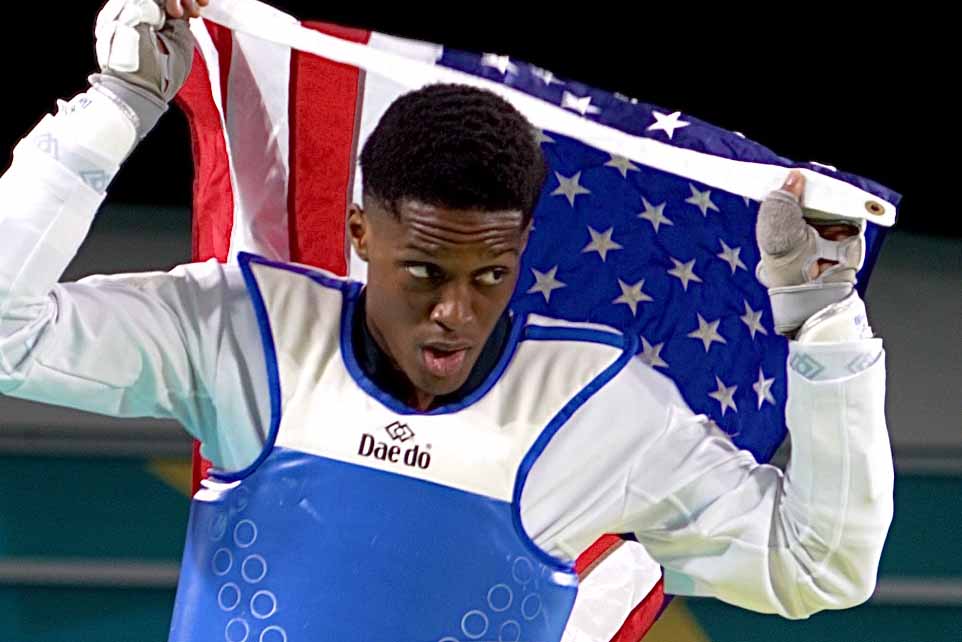 Santiago, Chile – In a stunning display of athletic prowess, Spc. Khalfani Harris, a combat engineer serving in the United States Army, secured a gold medal in Men's Taekwondo -68kg division at the Pan American Games in Santiago, Chile, on October 21, 2023. Harris, a member of the World Class Athlete Program's (WCAP) Taekwondo team, has not only proven himself a formidable athlete but also a true contender for the 2024 US Olympic team.
Harris's journey to gold was marked by exemplary performances throughout the tournament. His tenacity and precision led him to victory in the following matches:
Round of 16: HARRIS, Khalfani (USA) defeats GOMEZ, Uriel (MEX) 2-0
Quarterfinals: HARRIS, Khalfani (USA) defeats FERNÁNDEZ, Ángel (CUB) 2-0
Semifinals: HARRIS, Khalfani (USA) defeats PAZ, David (COL) 2-1
Gold Medal Match: HARRIS, Khalfani (USA) defeats PIE, Bernardo (DOM) 2-0
The atmosphere was electric as Harris pulled off two nail biting performance wins in a best of three round system during the final match against Bernardo Pie of the Dominican Republic, securing his gold medal with a 2-0 victory.
"As a Soldier, I'm always representing my country in one way or another. Today, I stand here as an athlete, and it's just as meaningful. To bring home the gold for my country is a privilege beyond words. I've seen the strength and determination of my fellow Soldiers, and now I've had the chance to showcase that same spirit in this areana. Moving forward, I will continue to carry the lessons I've learned as a Soldier and as an athlete. We [WCAP Soldier-athletes] are the embodiment of strength and teamwork, and I'm proud to be a part of both the U.S. Army and Team USA." said Spc. Harris.
Spc. Khalfani Harris's victory is not just a personal milestone but a testament to the strength, dedication, and unity of the United States Army and Team USA. His journey from Soldier to athlete is an inspiration to all, and he stands as a true representative of both entities.
You can follow their journey on social media by following @USArmyWCAP or at www.armywcap.com.
---