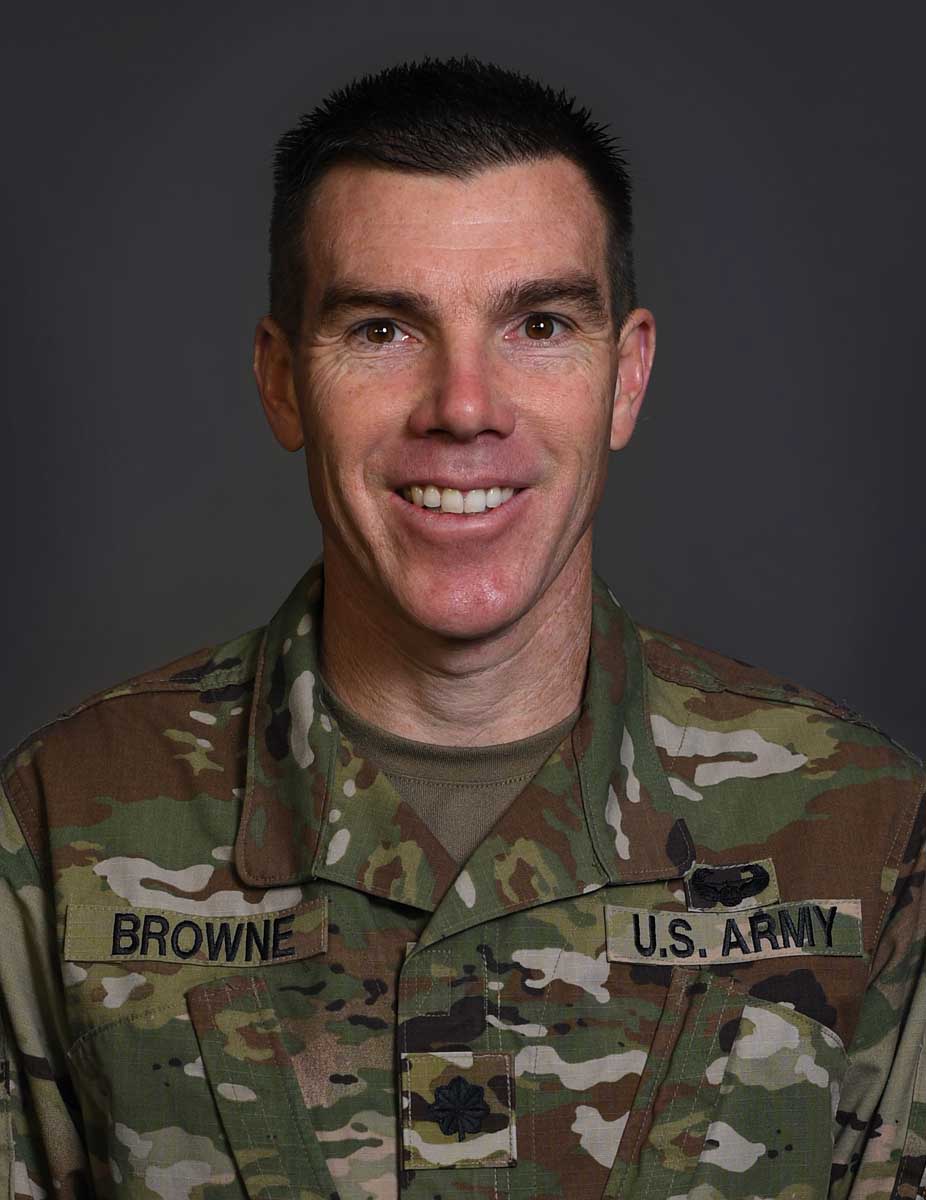 LTC Dan Browne
Modern Pentathlon
Hometown:
West Linn, Oregon
High School:
West Linn High School
College:
United States Military Academy at West Point
MOS:
90A, Logistics Officer
Dan's father introduced him to the sport of running at a young age with a one-mile fun run. Dan won, and his racing career began. He excelled as a runner in high school, placing at the Oregon state level in cross country, 1500 meters and 3000 meters races. He continued to run for West Point, where he achieved a sub-four minute mile against Navy. The years since graduating have brought him 17 US national championships, the opportunity to compete at the Olympics, and now the honor of coaching a new generation of world-class Soldier-athletes.
No reserves. No retreats. No regrets!
Career Highlights
---
Selection as Modern Pentathlon Coach. In the spring of 2017, Dan was chosen as modern pentathlon coach for USA Pentathlon. Brought in for his running expertise, he quickly became a jack of all trades. "I'm an old runner, but I'm getting to learn something new here. Running is only one of Pentathlon's five dimensions, so I really had to branch out." With roots in military history, the sport features cavalry skills a Soldier might need to get through enemy lines. "Our training days are very full. Our job is to figure out the weaknesses, and raise those things up." Just as challenging? ....
....Adjusting to the changes in the sport, which has evolved over the years. Though the events have historically taken place over several days, the Olympic Games in Tokyo will hold them at one location in a single day.
Olympic Coach, Track & Field. Dan was tagged to coach WCAP track and field in 2013, and he personally coached 3 WCAP Soldier-athletes at the 2016 Olympics in Rio. One of those Soldier-athletes won silver. "The experience of Rio was amazing," Dan says. "It's such an iconic place in the world, and it was great to experience it from coaching side…which is much different from the athlete side." He adds: "Helping get one of our Soldiers onto the podium added to the unique experience."
Olympian, 10,000 Meters and Marathon. Dan qualified for the Olympic Games separately in both events, and his trip to the 2004 Olympics in Athens, Greece, was a career high point. "Running where the modern Olympics had started in 1896—and where they began originally with the Ancient Greeks—was really powerful for me," he says. Better in cold weather, he found the heat challenging, but still placed 12th overall (and the top American) in the 10,000-meter race. After a week's training break on Crete, he returned to Athens for the marathon, the last event of each Olympics....
....High temperatures, a newly refinished roadway and dehydration slowed his stride, but he never quit. "At a certain point, finishing was the important thing," he says. Dan had to watch the closing ceremonies on TV, hooked to an IV fluid drip. "You learn from all experiences, good and bad."
Sub-four-minute mile at Army-Navy track meet. "As a West Point senior, I was trying to mount an assault on Academy records," Dan recalls. He had already accomplished that for the 5k and 3k races, and he had the mile in his sights. The standing record had been over four minutes, and many at West Point believed he could simultaneously break both barriers. He ran a 3:59.37 before a packed field house. "I was proud to do this at Army-Navy," adds the 17-time National Champion....
.... "I really believed in my heart I was going to do it." The timing was perfect. The next week, however, he was diagnosed with a stress fracture that derailed his campaign to win an NCAA title.