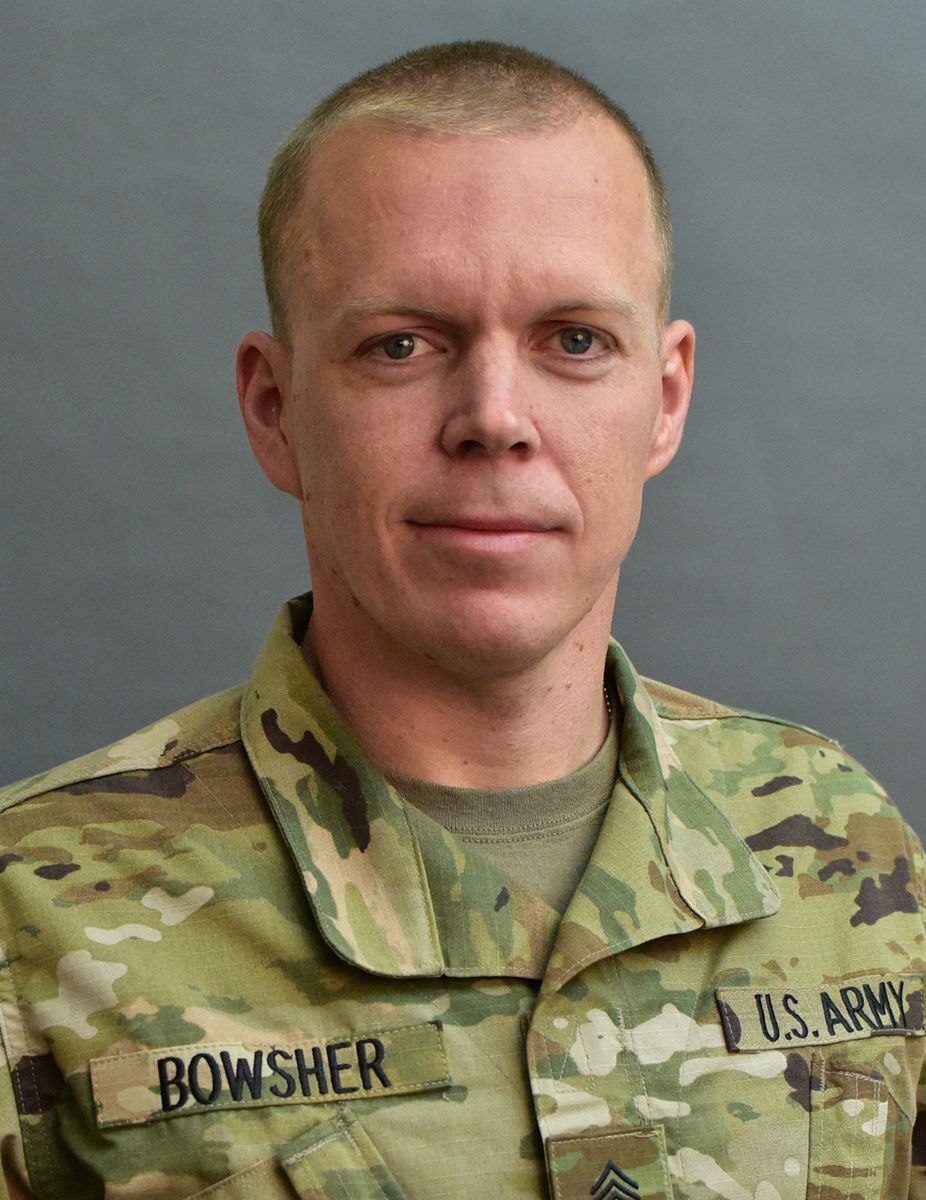 SFC Dennis Bowsher
Modern Pentathlon
High School:
W.T. White High School
College:
United States Sports Academy
MOS:
88M, Motor Transport Operator
Dennis swam growing up in Dallas, Texas, and learned about modern pentathlon as a sport in 2002. A three-time all-state swimmer, he knew he already qualified for one of the five pentathlon events. Expert coaches taught him to master the other four – fencing, equestrian, shooting, and running – and he became two-time Junior National Champion (2003, 2004) and the 2005 US National Champion right before leaving for Basic Training. His ascent continues with the Army and WCAP, including competing and coaching in the Olympic Games.
What motivates me to perform my best? I always want to beat the guy next to me. It doesn't matter if it's in practice or in competition.
Career Highlights
---
Olympic Assistant Coach, Modern Pentathlon.
"I had been training for the Olympics, but didn't make it on the team," Dennis says. Fellow WCAP Soldier-athlete Nathan Schrimsher did, though, and Dennis became his coach. "During Nathan's preparation for Rio, I swam with him, ran alongside, pushed him." In the end, Dennis' efforts helped Nathan place 11th, the highest US male pentathlon finish since 2004. "It was definitely a team effort, and I was proud to help get him ready," says Dennis.
US National Champion.
Dennis won his sixth national championship a decade after his first, but his victory had been far from certain. "My WCAP teammate Nathan Schrimsher had won it in 2013 and 2014, and I was wondering if this was the end of my career," Dennis says. "I came back with a great performance, and was proud of the way I'd raced." An Army male has won the National Championships every year since 2011, so Dennis was continuing the streak.
World Championships Team Member.
For a decade (2005-2015), Dennis had annually earned membership on the World Championships Team. In 2013, he gave a particularly noteworthy performance, placing 11th at the world championships in Taipei. That remains the highest US performance since 2004. Throughout his modern pen career, he has excelled at shooting. "It goes along with my mentality, since I'm pretty laid back," he says. "I've got the precision and calmness you need for a good shot."
Olympian, Modern Pentathlon.
After earning his berth to the Olympics at the Pan American Games, Dennis competed as the only US male pentathlete in the London games. There could have been two, but no one else had scored high enough. "I saw it is a kind of comeback," says Dennis. Four years earlier, his point totals qualified him for the 2008 Olympic games, but there were only two slots, and he was the alternate. Another thing that made the 2012 games meaningful: "Exactly 100 years earlier, Lieutenant George Patton competed at the Olympics in same event. I was walking in his footsteps."