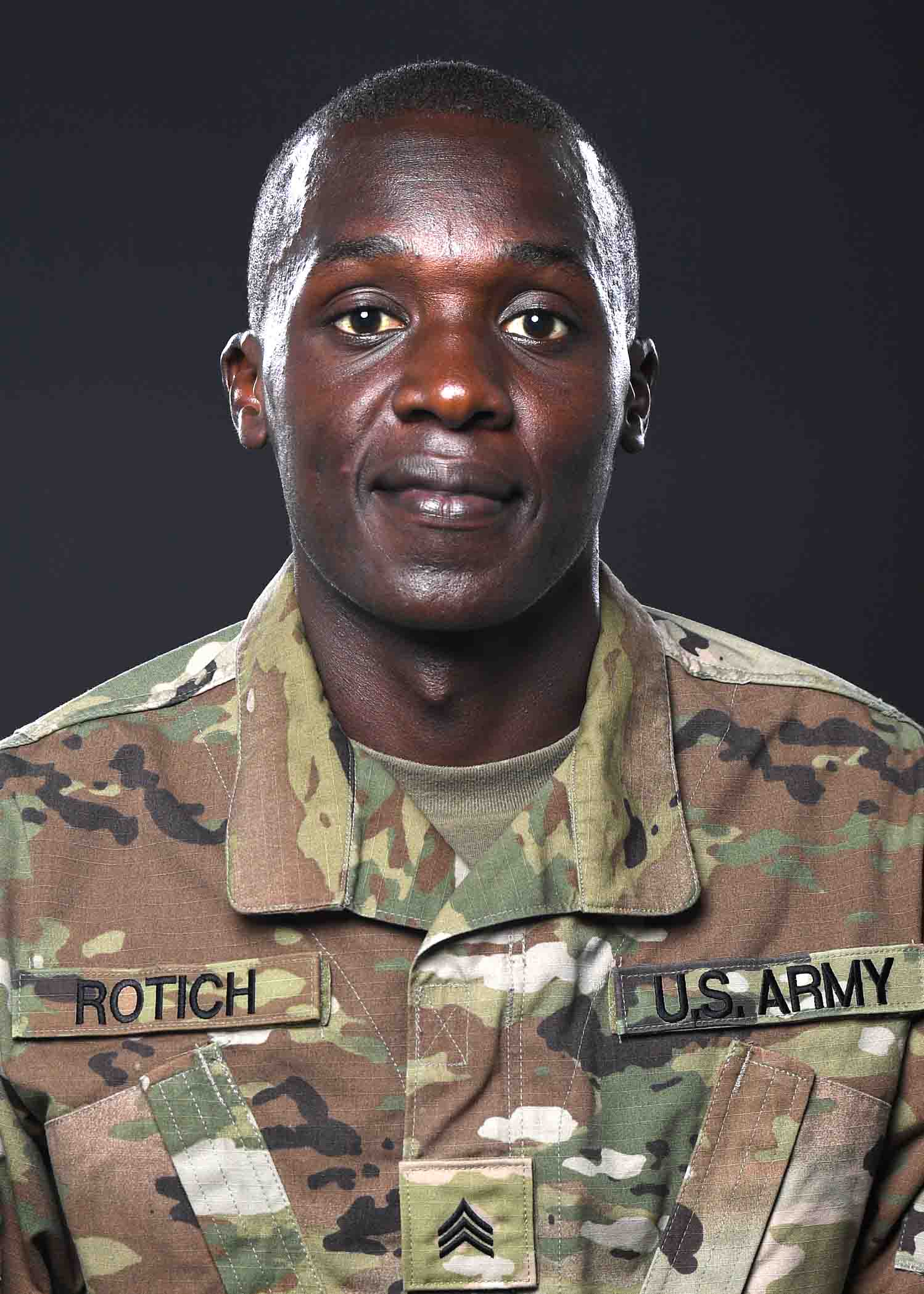 SGT Anthony Rotich
Track and Field
Event:
3,000m Steeplechase
High School:
Koiwa Boy's High
College:
University of Texas at El Paso
MOS:
91J, Chemical Equipment Repairer
Anthony grew up in his native Kenya playing every sport in school each season. By the time he got to high school, he specialized in soccer, and helped his team win the inter-high school competition. He started running in 2011 with the aim of securing a scholarship to study in the US. Though he had never competed before, he knew he had talent, since he could chase antelopes in the forest for hours without giving up. After an impressive collegiate career that made him a 4-time NCAA National Champion and 11-time all American, he joined the Army in 2016. It's no longer antelopes, but Olympic gold he's chasing now.
Suffer now in training, learn the process and live the rest of your life a champion.
Career Highlights
11x NCAA All American
2023
6th Place - Diamond League, Monaco, France (3,000m Steeplechase)(Olympic Standard)
3rd place - USATF 10K Cross Country Championships, Richmond, VA
2nd place - Track Night NYC Track Meet, New York, NY (3,000m)
2022
2nd place - Oregon Relays, Eugene, OR (3,000m)
2nd place - Under Armour Sunset Tour, Los Angeles, CA (3,000m)
2020
5th place - 2019 Military World Games, Wuhan, China (5,000m)
1st place - USATF 5K Road Race Championship, New York, NY
1st place - Blazer Invitational, Birmingham, AL (3,000m)
1st place - USATF 10K Cross Country Championship, San Diego, CA
2nd place - USATF Indoor National Championship, Albuquerque, NM (3,000m)
2019
1st place - Wharf to Wharf 6 Mile Run, San Jose, CA
2013, 2014, 2015
NCAA Outdoor National Champion - 3,000m Steeplechase
2014 NCAA Indoor National Champion - 1 Mile