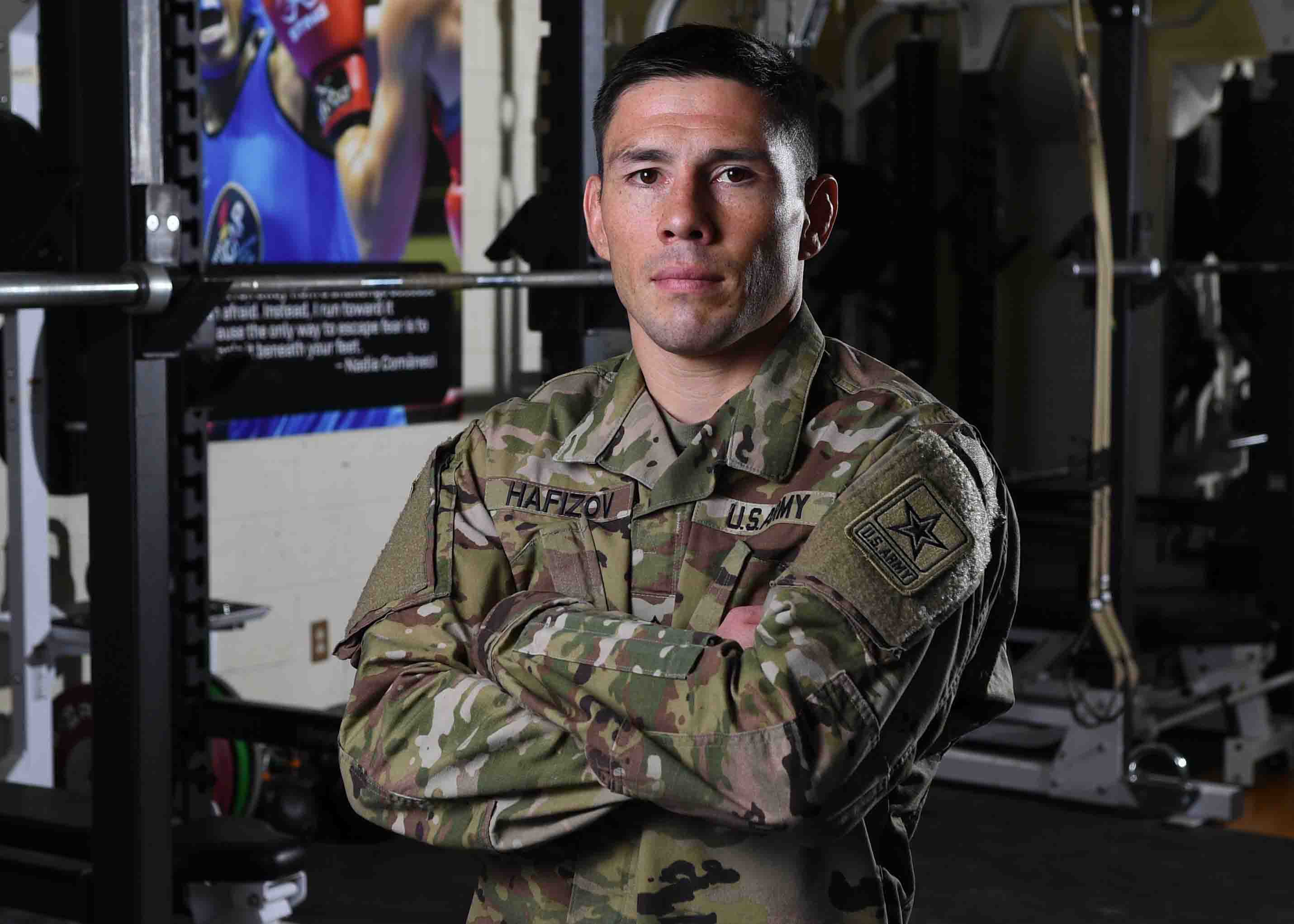 SGT Ildar Hafizov
Greco-Roman Wrestling
60kg
Hometown:
Tashkent, Uzbekistan
MOS:
88M, Motor Transport Operator
Ildar started wrestling at the age of ten, when his first coach lived next door. He invited Ildar to watch practice, and the rest is history. "What I remember next is that I started winning national competitions," he says. He won many of those, in fact, and earned a bronze medal at the Cadet Asian Championship. Joining the US military in 2015 has opened up new doors for Ildar, including earning him a place as a US Olympic alternate.
I love the action of wrestling. Throwing people around is awesome!
Career Highlights
---
2019 Greco-Roman Wrestling World Championships - 7th Place
Pan American Games Bronze Medalist
U.S. World Team Trials Champion
U.S. National Championships Silver medalist
World Team Member. After winning the American trials for his weight class, Ildar competed at Worlds in France. Unfortunately, he peaked early in his training calendar. "By the time competition came, I was already tired. I didn't catch the good wave," he admits. He performed much better two weeks later, at the Military World Championship. "I wrestled the same guy from Armenia who beat me in Paris…and this time I beat him bad, with a technical win."
Olympic Alternate, Wrestling. Ildar had paused his wrestling career in 2012 to accomplish another dream: becoming a US citizen. Wrestling's international governing body required a two-year break from the sport after changing citizenship, and Ildar wanted to rejoin wrestling as an American. He finally became a citizen in October 2015. With only six months to train after graduating from the Army's Basic and Advanced Individual Training, he became National Champion and Vantaa Cup Champion, and was named an Olympic alternate.
National Champion, Vaanta Cup Champion
2011 - Asian Silver Medalist, World Team Member
David Shultz Tournament Champion
Olympian, Wrestling. Ildar was a citizen of Uzbekistan when he qualified for the Beijing Olympics by taking 5th place at the 2007 World Championships. Only 20 years old when he competed in China, he says he learned a great deal from his older teammates. "It was the best competition in my life," Ildar says, "A lot harder than I'd experienced before." He lost to a Russian who later became the gold medalist.
Senior Asian Bronze Medalist, World Team Member
Gold Medal, Junior Asian Championships. The Abu Dhabi weather took its toll on Ildar in this tournament. "It was much warmer and more humid than I was used to, which made it harder to cut weight," he says. He weighed in perfectly on the check-in scale, but the competition scale weighed differently—and said he was .2 kg over the maximum for his weight class. Officials gave him 30 minutes to lose the fraction, so Ildar went running. His next weigh-in was perfect, qualifying him to compete. He won all three matches, against opponents from Iran, South Korea and Kazakhstan....
.... "It was a tough tournament, with hard competition…and it ended up the first big gold medal for me," Ildar says.
Cadet Asian Bronze Medalist