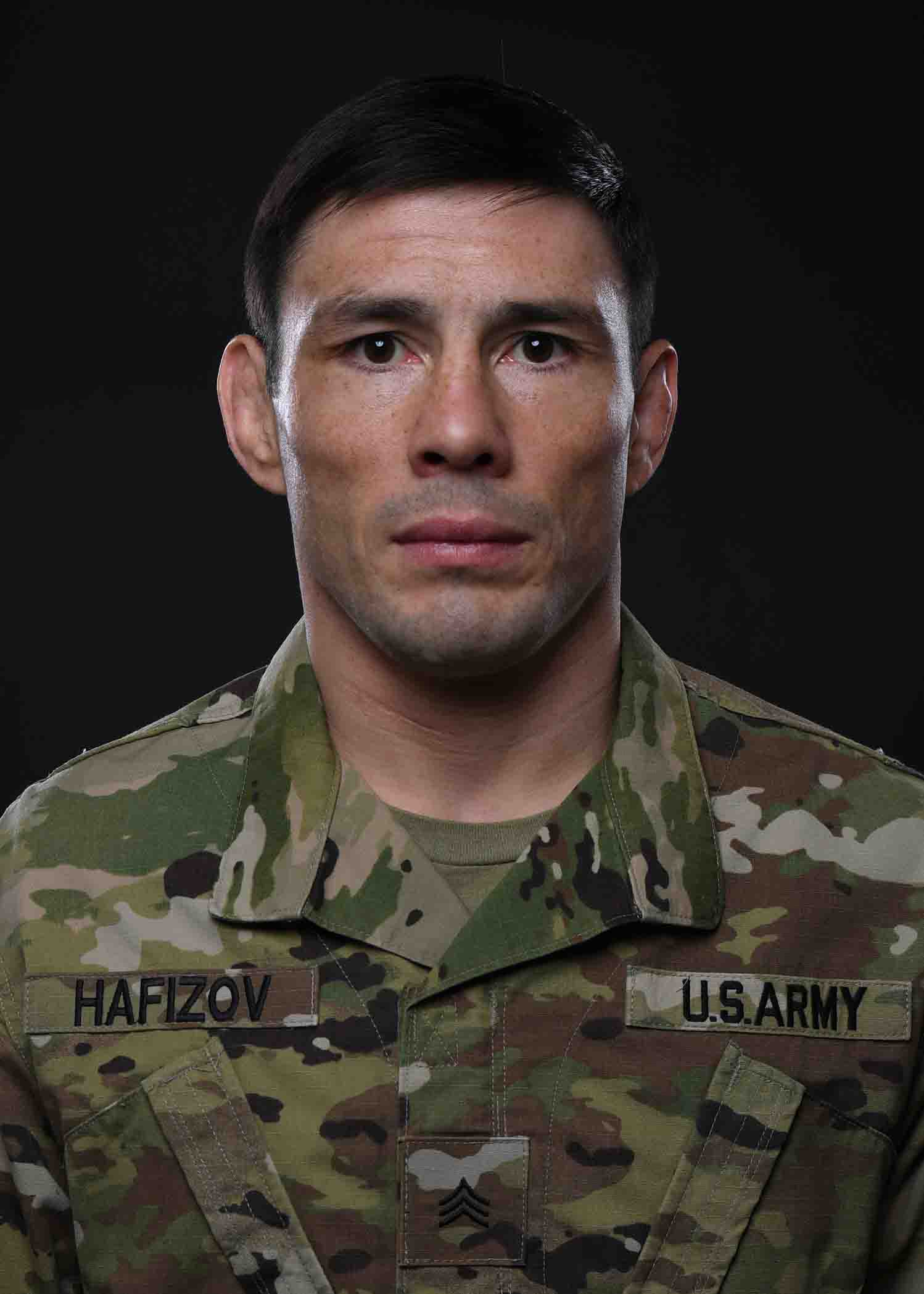 SGT Ildar Hafizov
Greco-Roman Wrestling
Hometown:
Tashkent, Uzbekistan
High School:
Olympic College
College:
Physical and Cultural University
MOS:
88M, Motor Transport Operator
SGT Ildar Hafizov started wrestling at the age of ten, when his first coach lived next door. He invited Hafizov to watch practice, and the rest is history. "What I remember next is that I started winning national competitions," he says. He won many of those, in fact, and earned a bronze medal at the Cadet Asian Championship. Joining the U.S. Military in 2015 has opened up new doors for Hafizov, including earning him a place as a U.S. Olympic alternate.
Being a Soldier-athlete means that not only do I have to be a good athlete, but also a great leader for Soldiers. I am the example.
Career Highlights
2020 U.S. Olympian (Greco-Roman 60kg)
2008 Olympian (Greco-Roman 60kg)
2023
2nd place - German Grand Prix Wrestling Tournament in Dortmund, Germany (Greco-Roman 60kg)
1st place - Final X Wrestling Tournament, Newark, NJ, (Greco-Roman 60kg)
2nd place - U.S. Open, Las Vegas, NV (Greco Roman 60kg)
2022
U.S. World Championships Team Member (Greco Roman 60kg)
2nd place - Bill Farrell Memorial, Cedar Falls, IA (Greco Roman 60kg)
1st place - U.S. Open, Las Vegas, NV (Greco Roman 60kg)
1st place - World Team Trials Challenge Tournament, Coralville, IA (Greco Roman 60kg)
1st place - Final X New York, New York, NY (Greco Roman 60kg)
2021
U.S. Olympic Games Team Member (Greco Roman 60kg)
5th place - Matteo Pellicone Tournament, Rome, Italy (Greco Roman 60kg)
1st place - U.S. Olympic Trials, Fort Worth, TX (Greco Roman 60kg)
2nd place - Pan Am Championships, Guatemala City, Guatemala (Greco Roman 60kg)
2nd place - World Team Trials, Lincoln, NE (Greco Roman 60kg)
2020
1st place - Armed Forces Championship, Kitsap, WA (Greco Roman 60kg)
2nd place - Pan-American Olympic Qualifier, Ottawa, Canada (Greco Roman 60kg)
2019
U.S. World Championships Team Member (Greco Roman 60kg)
1st place - Dave Schultz Memorial, Colorado Springs, CO (Greco Roman 60kg)
1st place - Armed Forces Championships, Fort Bliss, TX (Greco Roman 60kg)
2nd place - U.S. Open, Las Vegas, NV (Greco Roman 60kg)
1st place - World Team Challenge Tournament, Raleigh, NC (Greco Roman 60kg)
1st place - Final X Lincoln, Lincoln, NE (Greco Roman 60kg)
3rd place - Pan American Games, Lima, Peru (Greco Roman 60kg)
3rd place - 2019 Military World Games, Wuhan, China (Greco Roman 60kg)
2018
2nd place - Armed Forces Championships, Camp Lejeune, NC (Greco Roman 60kg)
1st place - Greco-Roman World Team Trials, Tulsa, OK (Greco Roman 60kg)