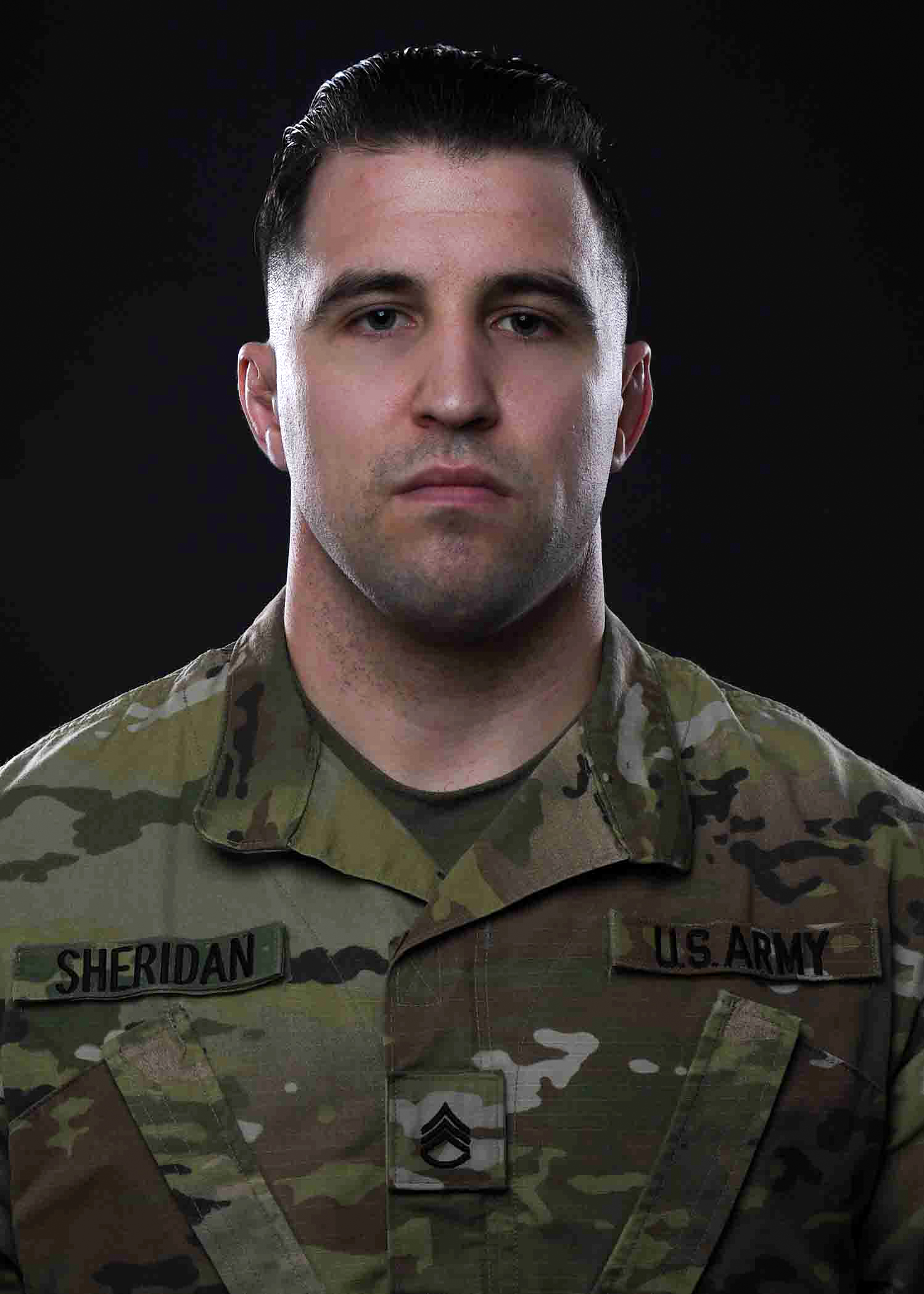 SSG Lucas Sheridan
Greco-Roman Wrestling
High School:
De La Salle High
College:
Indiana University
MOS:
88N, Transportation Management Coordinator
Lucas was originally drawn to wrestling because it was a way he and his brother could fight and not get in trouble for it. In fact, it was the only sport they could participate in together, since they always found themselves on different baseball, basketball and soccer teams. Lucas developed as a wrestler, and earned an opportunity to compete at the inaugural Youth Olympic Games in 2010 in Singapore. He wrestled at Indiana University, then became a Soldier-athlete with WCAP and All Army Wrestling.
I love wrestling because of its barbaric simplicity: you versus me…may the better man win.
Career Highlights
2022
1st place - U.S. National Championships, Las Vegas, NV (Greco-Roman 97kg)
3rd place - World Team Trials Challenge Tournament, Coralville, IA (Greco-Roman 97kg)
1st place - True Third National Team Match, New York, NY (Greco-Roman 97kg)
U.S. National Team Member
2021
2nd place - Olympic Trials, Fort Worth, TX (Greco-Roman 97kg)​​​​​​​2020
1st place - Armed Forces Championship, Kitsap, WA​​​​​​​ (Greco-Roman 97kg)
1st place - Armed Forces Championship, Kitsap, WA​​​​​​​ (Freestyle 97kg)​​​​​​​
2019
2nd place - Dave Schultz Memorial, Colorado Springs, CO (Greco-Roman 97kg)
2nd place - Armed Forces Championships, Fort Bliss, TX (Greco-Roman 97kg)
1st place - Armed Forces Championships, Fort Bliss, TX (Freestyle 97kg)
2nd place - U.S. Open, Las Vegas, NV (Greco-Roman 97kg)
1st place - World Team Challenge Tournament, Raleigh, NC (Greco-Roman 97kg)
2nd place - Final X Lincoln, Lincoln, NE (Greco-Roman 97kg)
2nd place - U.S. National Championships, Las Vegas, NV (Greco-Roman 97kg)
3rd place - Haparanda Cup, Haparanda, Sweden (Greco-Roman 97kg)
2018
U.S. National Team Member
1st place - Bill Farrell International, New York, NY (Greco-Roman 97kg)
3rd place - U.S. Open, Las Vegas, NV (Greco-Roman 97kg)
3rd place - Greco-Roman World Team Trials, Tulsa, OK (Greco-Roman 97kg)
2013
2x Junior World Team Member
1st place - University National Championships