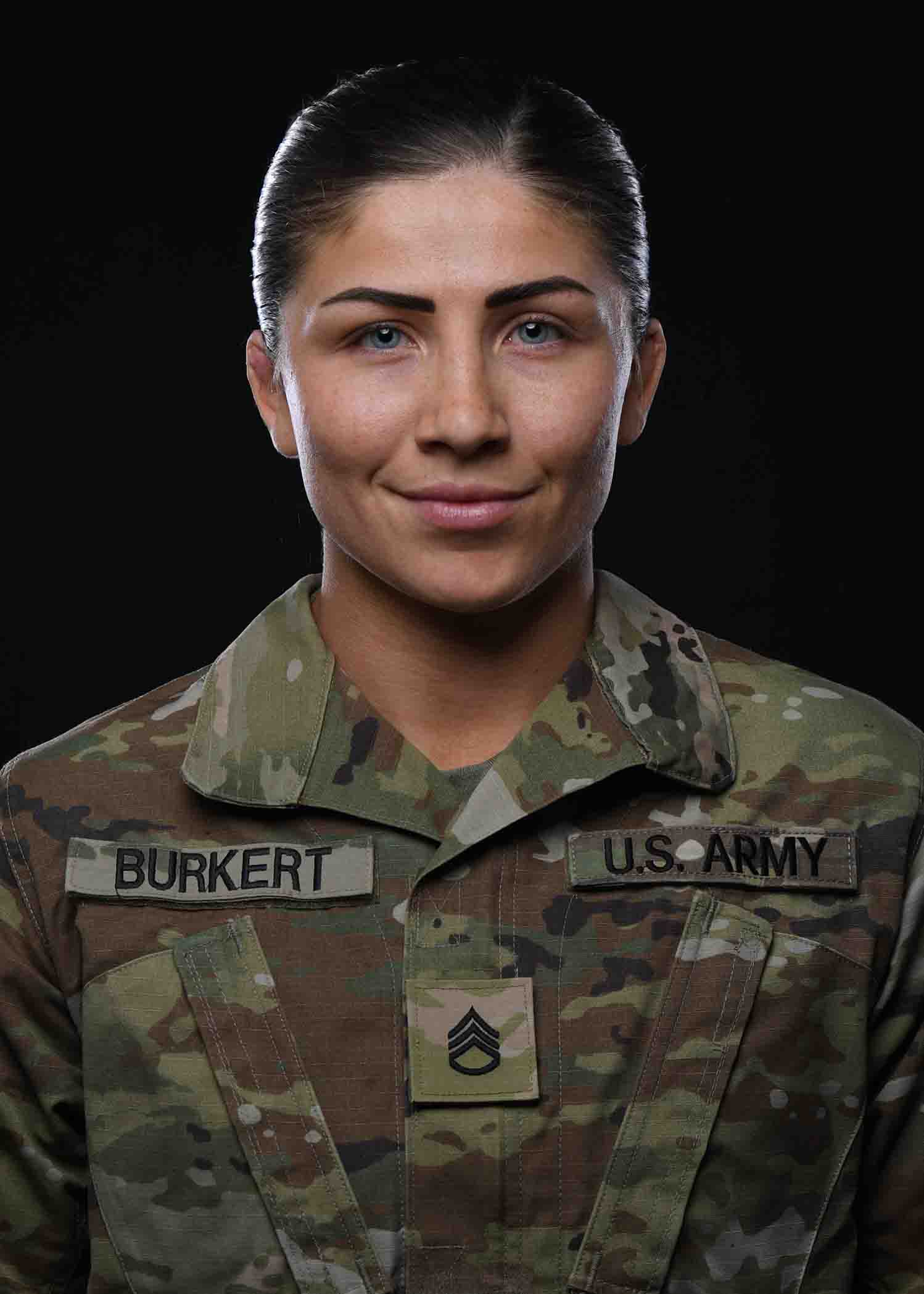 SSG Jenna Burkert
Freestyle Wrestling
Hometown:
Rocky Point, NY
High School:
Marquette Senior High
College:
University of Colorado Colorado Springs
MOS:
92Y, Unit Supply Specialist
A boy ripped a flyer out of six-year-old Jenna's hand, telling her, "Jenna, you can't do that – you're a girl!" From that moment, she was determined to prove him wrong. She chose to focus on wrestling in high school, knowing from a young age that she wanted to be an Olympian. After high school, she attended college and trained as a resident athlete at the Olympic Training Center. She joined the U.S. Army in 2016 and has displayed exceptional performances on the mat while also demonstrating unwavering dedication and discipline as a United States Soldier.
I am a part of something bigger than myself. I'm a Soldier, and that pushes me to perform at my absolute best.
Career Highlights
2021 World Bronze Medalist
4x U.S. World Team Member (Freestyle 60/59/57/55kg)
3x U.S. Junior World Team Member (Freestyle 59kg)
2021
3rd place - Wrestling World Championships (Freestyle 55kg)
2nd place - U.S. Olympic Team Trials, Fort Worth, TX (Freestyle 57kg)
3rd place - Final X World Team Trials (Freestyle 55kg)
2020
U.S. Olympic Team Alternate (Freestyle 57kg)
2nd place - Pan Am Championship Wrestle Off, Marietta, GA (Freestyle 57kg)
2019
U.S. World Team member
2nd place - U.S. Open, Las Vegas, NV (Freestyle 57kg)
1st place - World Team Challenge Tournament, Raleigh, NC (Freestyle 57kg)
1st place - Final X Rutgers, Bridgewater, NJ (Freestyle 57kg)
2nd place - Pan American Games, Lima, Peru (Freestyle 57kg)
2018
U.S. World Team member
3rd place - U.S. Open, Las Vegas, NV (Freestyle 62kg)
1st place - Women's Freestyle World Team Trials Challenge Tournament, Rochester, MN (Freestyle 59kg)
1st place - Ion Cornianu Tournament, Bucharest, Romania (Freestyle 59kg)​​​​​​​2016
1st place - Senior Nationals & Trials Qualifier, Las Vegas, NV ​​​​​​​(Freestyle 60kg)2014
U.S. National Championships Gold Medalist (Freestyle60kg)