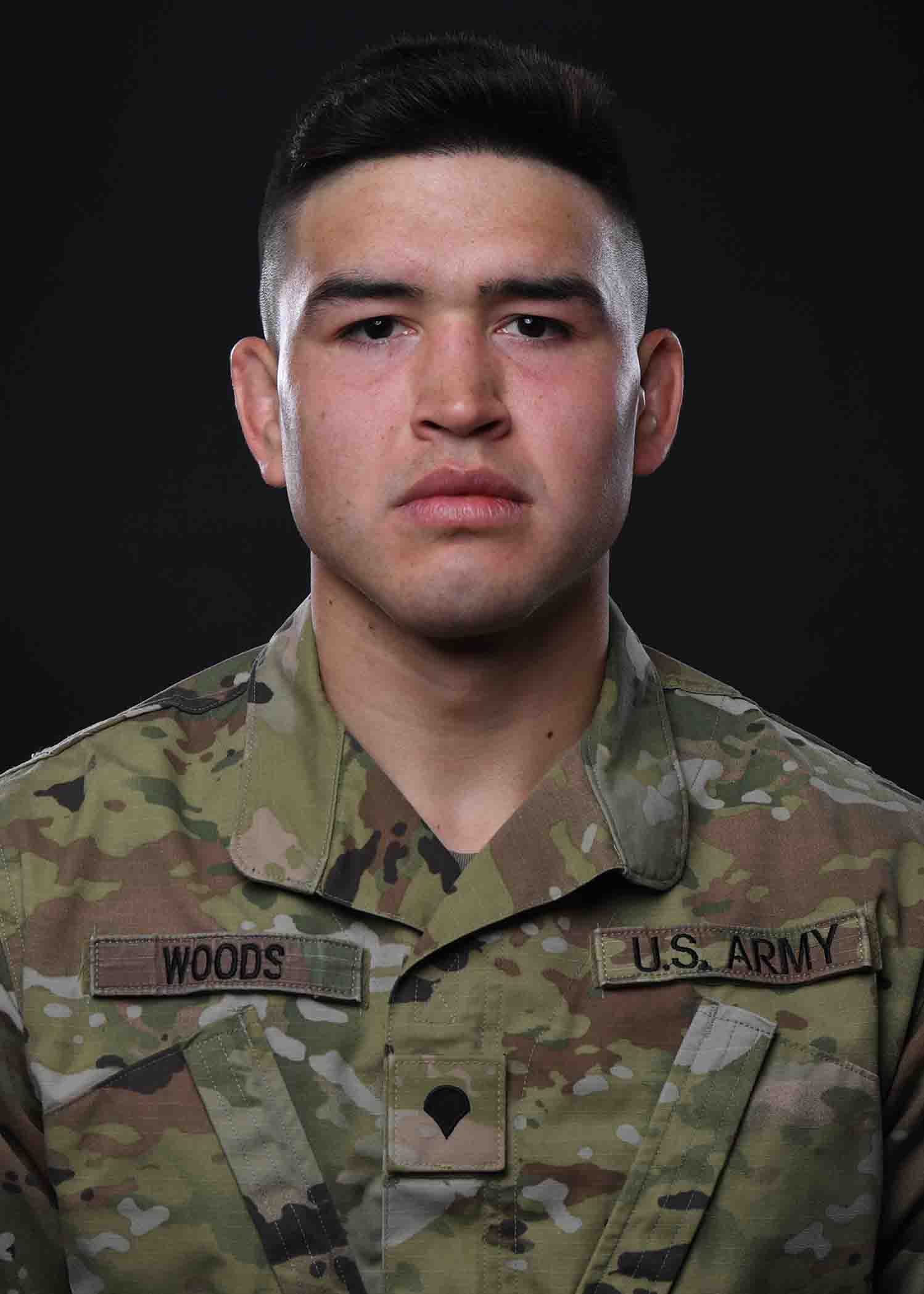 SPC Spencer Woods
Greco-Roman Wrestling
High School:
Kotzebue High
College:
Northern Michigan University
MOS:
12K, Plumber/Pipe Fitter
Growing up in a small village 50 miles above the Arctic Circle, Spencer didn't have many distractions from wrestling. Although he initially imagined WWE-style grappling, he tried wrestling at school and grew to love it. In fact, he never missed a practice through high school graduation. Over time, he focused on Greco-Roman wrestling, sometimes traveling significant distances to perfect his skills. His collegiate career took him across the country and to Austria, Panama, Sweden, Finland, Russia, and Denmark to compete. Though his grandfather fought with the Army in World War II and his father is a retired Army officer, Spencer hadn't given the service much thought – until he heard about the World Class Athlete Program and realized he didn't have to give up Olympic dreams to follow in their footsteps.
I am a U.S. Army Soldier with an awesome opportunity to represent the USA and U.S. Army on a world-class level. I love to compete but I am proud to say that I am a Soldier First.
Career Highlights
2023
U. S. World Team Member
5th place - World Ranking Tournament, Budapest, Hungary (Greco-Roman 82kg)
1st place - Final X Wrestling Tournament, Newark, NJ (Greco-Roman 82kg)
1st place - Pan-American Wrestling Championships, Las Vegas, NV (Greco-Roman 82kg)
1st place - U.S. National Championships, Las Vegas, NV (Greco-Roman 82kg)
1st place - Armed Forces Championships (Greco-Roman 87 kg)
1st place - Armed Forces Championships (Men's Freestyle 92 kg)
2022
U. S. World Team Member
1st place - U.S. National Championships, Las Vegas, NV (Greco-Roman 82kg)
2nd place - Final X Stillwater, Stillwater, OK (Greco-Roman 82kg)
2nd place - Bill Farrell Memorial, Cedar Falls, IA (Greco-Roman 82kg)
U.S. World Team Member
2021
U23 World Team Member
3rd place - Olympic Trials, Fort Worth, TX (Greco-Roman 87kg)
1st place - Senior National Championships, Coralville, IA (Greco-Roman 87kg)
1st place - U-23 World Team Trials, Lincoln, NE (Greco-Roman 87kg)
2nd place - World Team Trials, Lincoln, NE (Greco-Roman 82kg)
2019
Runner-Up, Senior US Open
Champion, Malar Cupen (Sweden)
Runner-Up, NYAC Bill Farrell Memorial Olympic Trials Qualifier