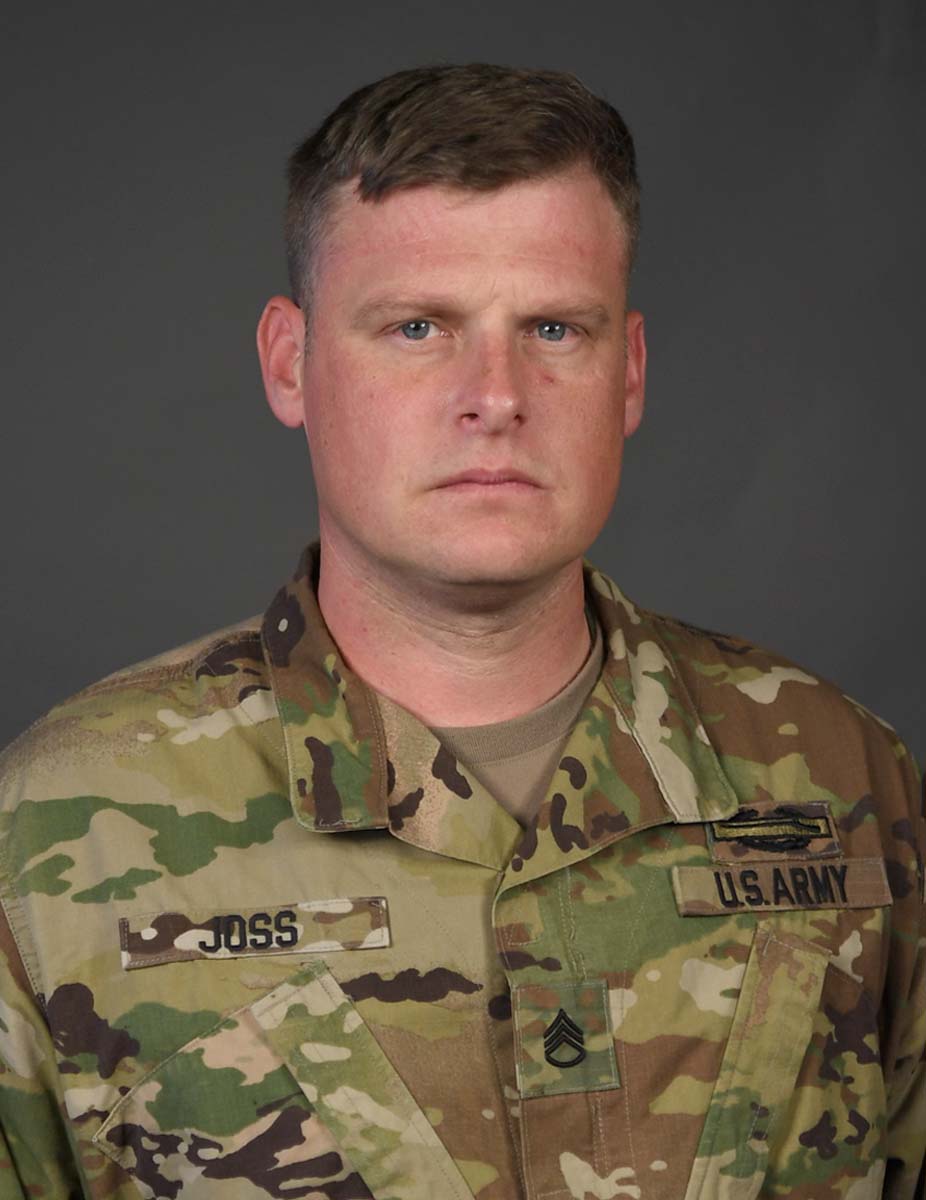 SSG John Joss
Para Shooting
High School:
Burkburnett High School
College:
Vernon Regional Junior College
Joined Army:
October 2004
MOS:
11C, Indirect Fire Infantryman
As a kid, John was good with guns, which made him a natural as an Army infantryman. In 2007, a combat injury required a right lower leg amputation, but he didn't let that slow his career. While attending the Warrior Leader Course at Fort Benning in 2011, he was approached about joining the Army shooting team. "I wasn't sure what it'd be like, but I tried out…and it's been great since," John says. He earned a coveted slot in the US Army Marksmanship Unit in 2012, and has been racking up victories with that unit and WCAP ever since.
I'm a competitor first. If you pick up a stick and throw it into the wood line, I'll pick up another one and throw it even farther.
2018 - Silver Medal, R6 50m Prone, World Shooting Para Sport World Cup. John's second place finish in Chateauroux, France, in the R6 (Mixed 50m Rifle Prone SH1) event was another step in his ascent in the sport. Although he entered the final round with the lowest qualification score, he catapulted to second place with his first five shots, and remained there to grab the silver. Just as important: he earned a US quota for the 2020 Paralympics in the event. Not all nations get to compete in all Paralympic events, but the quota John won means the US will shoot this event in Tokyo. "My goal was the quota, and I was determined to earn it," he said.
2017 - Bronze Medal, Thailand World Cup. "The Thai World Cups are always really big, with really good competition," says John, and this one followed that pattern. He came to it and shot excellently—especially considering he had just recovered from major surgery. A shoulder procedure left him off the gun for eight months, giving him only three months' training before shooting in Thailand.
2016 - 5thPlace, Paralympic Games. "Rio was my first Paralympic Games, and I would have been happy to just make it to the final," John says. He placed fifth in the qualifying round, then fifth in the final. His was the top Paralympics showing for an American male shooter that year. "It was a windy day, but I had a really good hold, and wasn't nervous." Despite his excellent showing, John admits he made a few mistakes, but adds, "I'm going to use that as a foundation for my preparations for Tokyo."
2016 - Gold Medal, Grand Prix, Fort Benning, Georgia
2015 - Silver Medal, World Cup Australia. Not only did John's performance at the World Cup score him a medal, it also clinched a quota slot for the 2016 Paralympics—a slot he filled. This match, like many of those he shoots, showcased a skill not all shooters possess. "One thing that sets me apart is wind training," John says. "If it's a really windy day, the others don't do well…but I do." His training with the Army allows him to read the wind, something he calls a lost art since the spotting scope. "I can read mirages, how the wind moves the water vapor, and then adjust my aim accordingly," he says.
2015 - California State Small Bore Rifle Champion, Victor L. Auer Prone Match
2013 – Gold Medal, Thailand World Cup. A combination of raw talent and determination quickly brought John onto the world stage. He entered the sport in 2012, and won his first international gold the next year. "Shooting is your job in the Army Marksmanship Unit," says John. "I knew my job was to train and shoot—and not just for recreation. It's my job to shoot and win."
2013 - 3rd Place, Air Gun World Cup Turkey