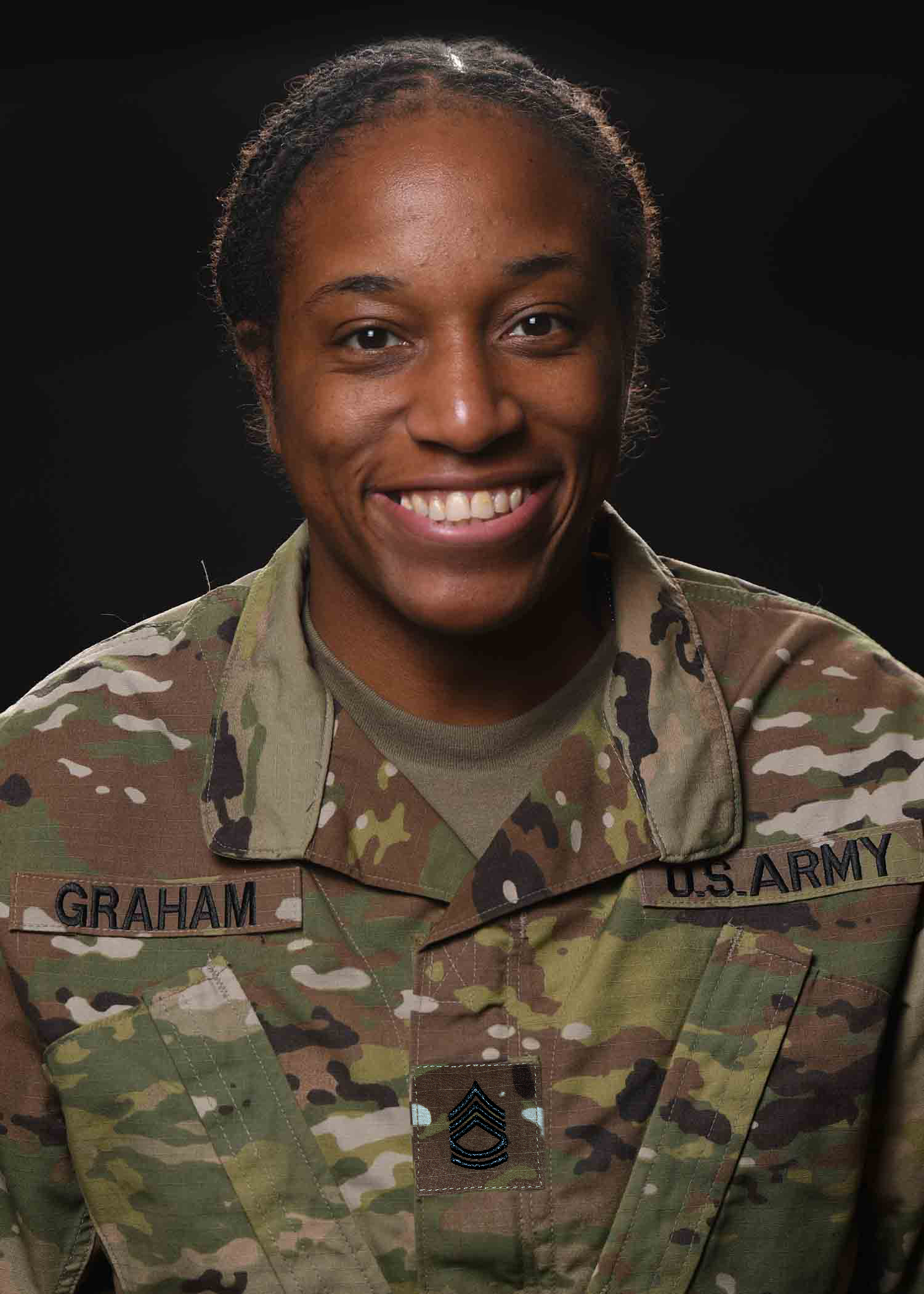 SFC Naomi Graham
Women's Boxing
Hometown:
Fayetteville, NC
High School:
Pine Forest High
College:
Independence University
Joined Army:
February 2013
MOS:
89B, Ammunition Specialist
SFC Naomi Graham did not participate much in sports while growing up. She started boxing after high school, a year before enlisting in the Army. Her sister introduced her to the sport of boxing. In 2012, Graham began a self-training regimen that resulted in her first three wins. The Army has provided her with expert coaching, elite facilities, and the opportunity to compete throughout the nation and the world.
Being a Soldier-athlete means everything to me. Both sides I get to show what a leader looks like. I get to mentor on both sides and people look up to me on both sides. I feel I have knowledge to share on both sides that can help someone in the future.
Career Highlights
2023
3rd place - Strandja International Tournament, Sofia, Bulgaria (165 lbs.)
2022
1ST place - Colorado Golden Gloves State Championships, Denver, CO (165 lbs.)
1ST place - CO/NM Regional Golden Gloves, Denver, CO (165 lbs.)
1ST place - Golden Gloves National Championships, Tulsa, OK (165 lbs.)
2021
1ST place - Strandja International Tournament, Sofia, Bulgaria (165 lbs.)
1ST place - Boxam Tournament, Castellon, Spain (165 lbs.)
2nd place - USA Boxing National Championships, Shreveport, LA (165 lbs.)
2020
1ST place - Strandja International Tournament, Sofia, Bulgaria (165 lbs.)
1st place - 2020 Boxam Tournament, Castellon, Spain (165 lbs.)
2nd place - Alexis Vastine Tournament, Nantes, France (165 lbs.)
2019
1st - Strandja International Tournament, Sofia, Bulgaria (165 lbs.)
3rd - Pan-American Games Qualifier, Managua, Nicaragua (165 lbs.)
1st place - Pan-American Games, Lima, Peru (165 lbs.)
1st place - 2020 Olympic Trials, Lake Charles, LA (165 lbs.)
2018
3rd place - Women's World Championships, New Delhi, India (165 lbs.)
1st place - USA Boxing National Championship, Salt Lake City, UT (165 lbs.)
2017
1st place - USA Boxing National Championship, Salt Lake City, UT (165 lbs.)