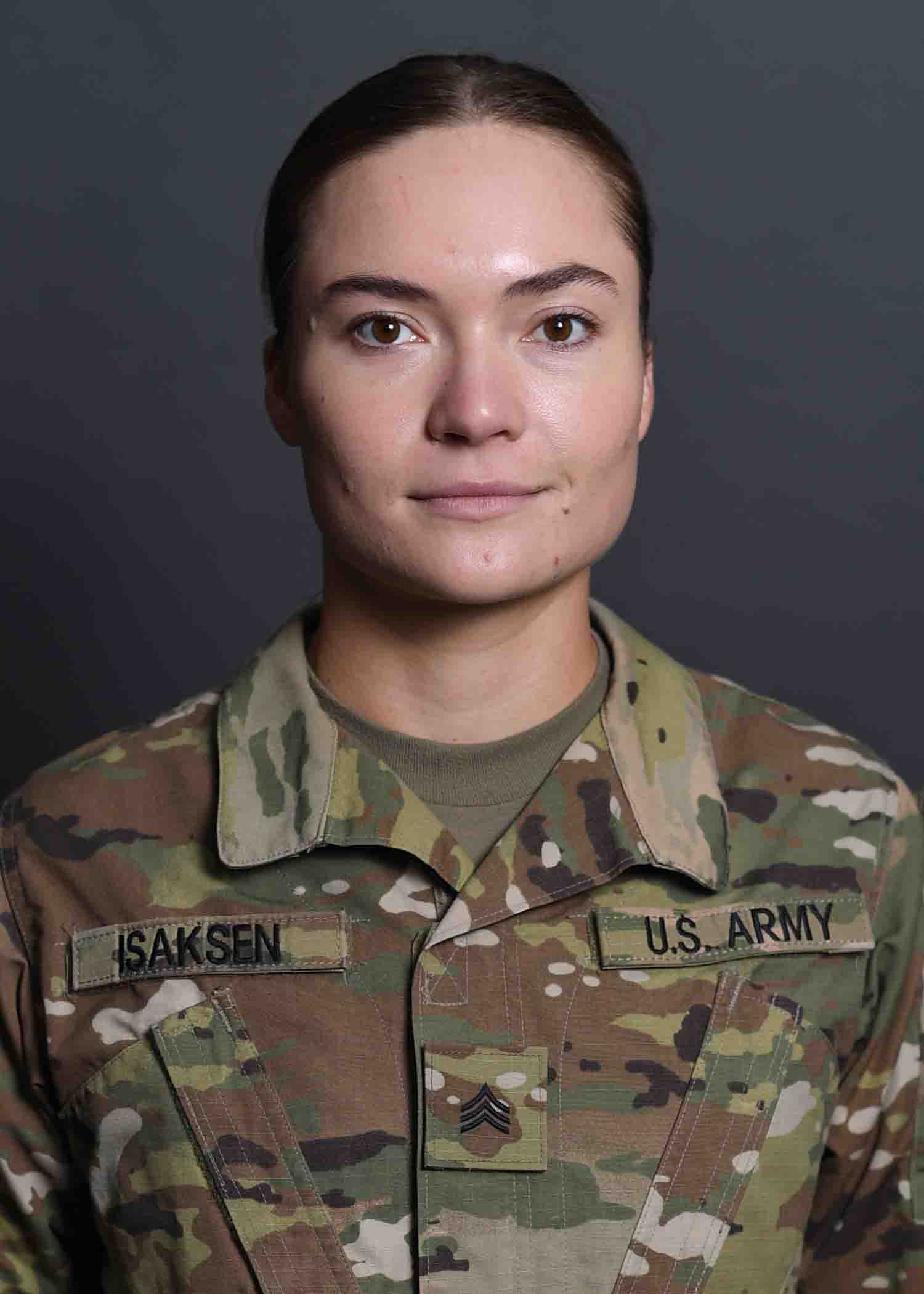 SSG Isabella Isaksen
Modern Pentathlon

Hometown:
Fayetteville, Arkansas
High School:
Homeschooled
College:
DeVry University
Joined Army:
January 2017
MOS:
Multiple Launch Rocket System Crewmember
Encouraged by her sister's 2012 Olympic performance in modern pentathlon, Isabella took the sport up herself. She began full-time training in each of its disciplines immediately after graduating high school, and competed at the 2016 Olympics. After that career highlight, she enlisted in the Army, and continued improving, including competing on the 2018 World Cup Team. She and her husband, fellow WCAP member and pentathlete Amro Elgeziry, are currently working toward their shared goal of competing at the 2020 Olympic Games.
I love the complexity of my sport. There are so many physical and mental challenges to competing in five different disciplines.
Career Highlights
Pan American Games Gold Medalist (Mixed Relay)
Silver Medal, World Cup Mixed Relay
The modern pentathlon mixed relay essentially splits the events in half, with the female and male each contributing equally to a combined score. Isabella's teammate was her husband Amro. "Really, the entire day was a highlight," says Isabella. "It was our first World Cup since Rio, and our first as Soldier-athletes. And standing on the podium with Amro? That was really great."
Olympian, Modern Pentathlon
"Getting to compete in the Olympics is the ultimate experience for any athlete, but it was so special for Amro and me to compete as husband and wife!" Isabella says. Her sister and Amro's brother also competed, which made Rio a family affair. "There's always some sibling rivalry," she admits, "but at end of the day, my sister and I both want each other to do well. She's a three time Olympian in modern pen, and I was proud she placed right in front of me." This was Isabella's first Olympics, and she's looking forward to even better results in Tokyo.
Junior World Champion (Team)
Isabella's team gold at the Junior Worlds in Poland represented a red-hot start to her career as a pentathlete. She had begun in January—and in less than a year, found herself with a gold medal and a seventh place individual finish at this world-stage championship