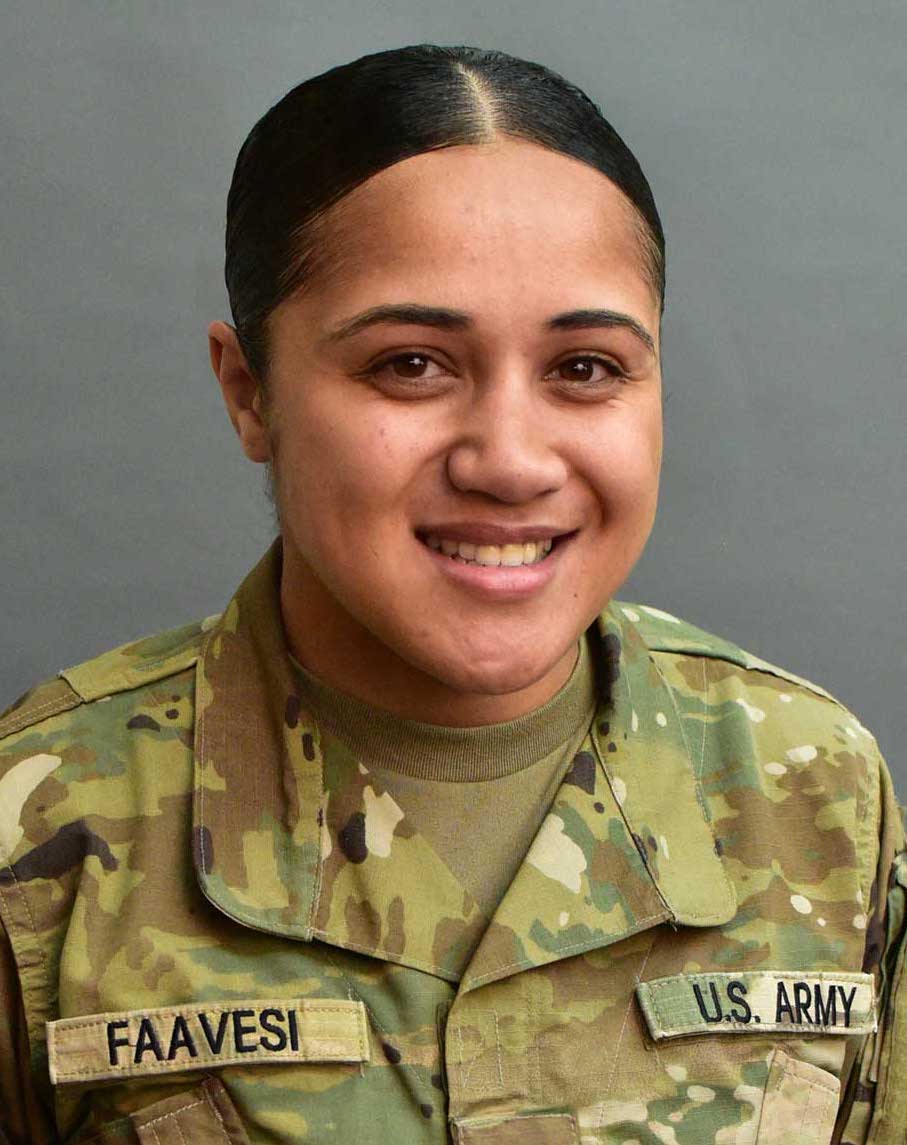 SGT Joanne Fa'avesi
Rugby Sevens
Hometown:
Sacramento, California
High School:
Luther Burbank High School
College:
DeVry University
Joined Army:
November 2017
MOS:
12B, Combat Engineer
In 2007, Joanne was introduced to the Sacramento Amazons for their first training of the season, and she never looked back. She played through high school, and then with a traveling all-star team. Joanne's ascent in the sport continued when she was scouted to attend a training camp with the USA Women's Sevens team. She made the roster for the first stop of the 2014-2015 World Rugby Series, and then contracted to train full time at the Olympic Training Center in January 2015. Since then, rugby has taken her to compete in the World Rugby Series, the Pan-American Games, the World Cup and the Olympic Games.
Being a Soldier-athlete means that I get to represent my country in more than one way. I take great pride in being both a Soldier and an athlete.
Career Highlights
---
Bronze Medal, HSBC World Rugby Sevens Series - Sydney, Australia
Participant, Rugby World Cup
Bronze Medal, Langford Sevens Tournament. This Canada-based tournament was Joanne's first event as a Soldier-athlete with WCAP. "I went to the Olympics as a civilian, and represented my country, my team, and my family. This time was different, though," she says. She took encouragement from her new Army identity. "It was so meaningful. Before every game, I thought about my drill sergeant, and everyone I was in Basic with."
Olympian, Rugby Sevens. Joanne's first Olympics was also the debut of rugby sevens as an Olympic sport. The team played across three days, and viewership shot up after their first-day success. "Rugby's not that big in the US, so it's a great feeling to know I was part of growing the game in America." Her team played well, placing fifth out of a field of 16. But her Olympics bid hadn't been a sure shot: the team missed qualifying during the regular season by only one point. They earned their last-ditch slot by besting Mexico at the NACRA Rugby Championships.
Silver Medal, Pan American Games. Joanne remembers this Toronto-based event as an important step on the way to the Olympics. For one reason: "Canada would play there, and they're always a tough opponent." Just as important, it would emphasize the need for focus. "This was an eye opener for us," Joanne says. "A big international competition can be distracting for an athlete. You can go to the salon or the arcade… but we really had to focus on game time and stay mindful of what we're there for." The team claimed a silver medal in a hard-fought loss to Canada in the finals.