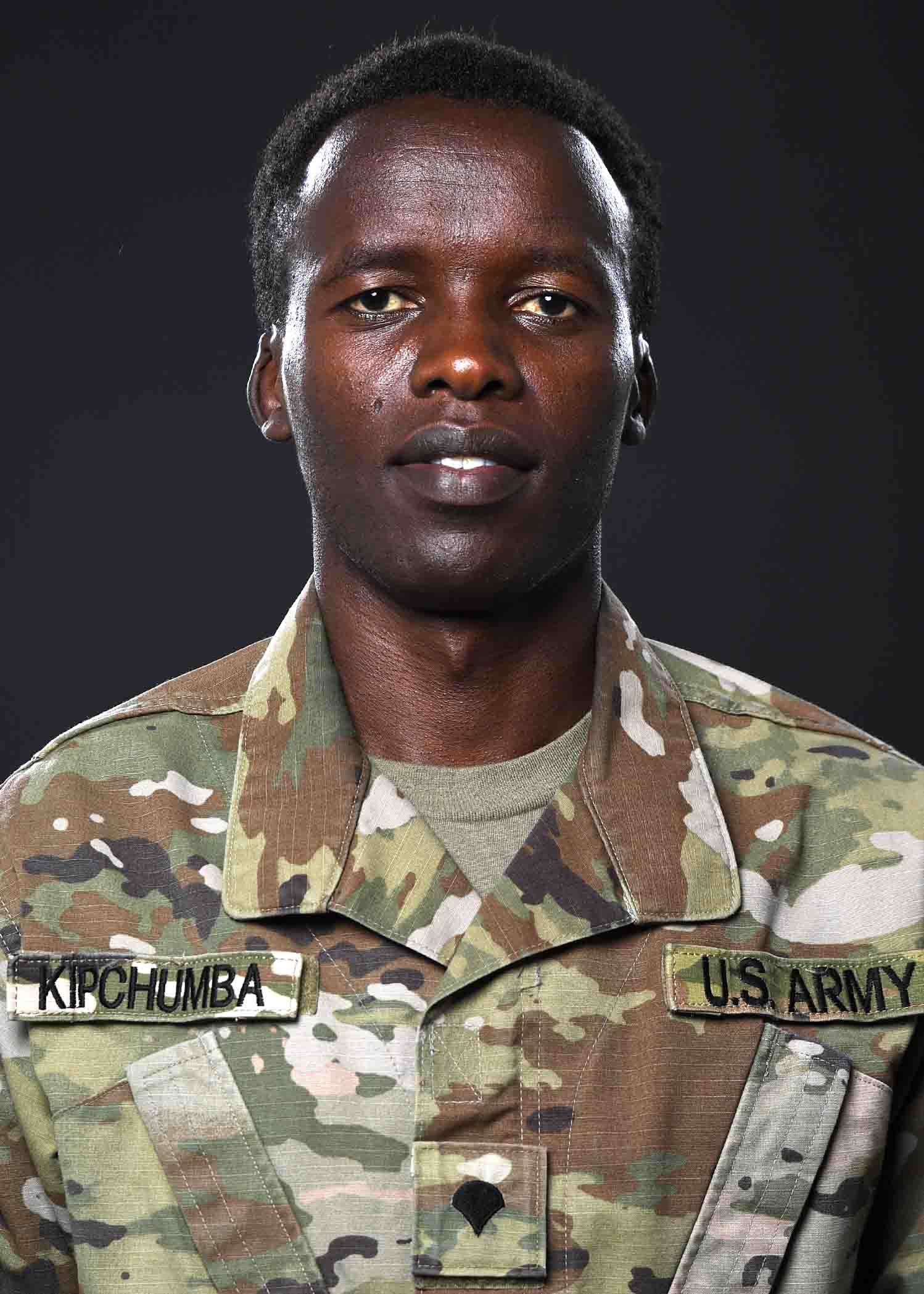 SPC Geoffrey Kipchumba
Track and Field
Hometown:
Colorado Springs, CO
High School:
Lelboinet High
College:
William Carey University
MOS:
68X, Army Behavioral Health Specialist
Kipchumba always felt running was a natural fit for him growing up in his Kenyan village. He would watch athletes running while he walked to school every morning, inspired. He needed assistance with university fees in 2010, and he felt running could earn him a college scholarship. While training and applying for schools in the United States, he earned a green card and continued the immigration process. Accepted to William Carey University on an athletic scholarship, he became a three-time 5km Indoor Track NAIA National Champion. Now in the WCAP, Kipchumba has the opportunity to serve his country while pursuing his dream of the Olympics. He says it is a gift he does not take for granted and he hopes that his running counts not just for his achievement but even more serves as a motivation to his fellow Soldiers.
Small is big just give it time – This means that don't underestimate the small things you already have, appreciate what you already have because over the time with patience, hard work and sacrifice it's going to grow big.
Career Highlights
2022
2nd place - Portland Track Festival, Portland, OR (10,000m)
2019
3rd place - Portland Track Festival, Portland, OR (10,000m)
1st place - Santa Fe Half Marathon, Santa Fe, NM
6th place - Boston Half Marathon, Boston, MA
2018
1st place - Outdoor Track NAIA National Championships (10,000m)
1st place - Indoor Track NAIA National Championships (5,000m)
2017
1st place - 5,000m Indoor Track NAIA National Championships (5,000m)
1st place - 3,000m Indoor Track NAIA National Championships (3,000m)
2016
1st place - 10,000m Outdoor Track NAIA National Championships (10,000m)
1st place - 5,000m Indoor Track NAIA National Championships (5,000m)
2015
1st place - 5,000m Outdoor Track NAIA National Championships (5,000m)
1st place - Cross-Country NAIA National Championships
1st place - Outdoor Track NAIA National Championships (10,000m)