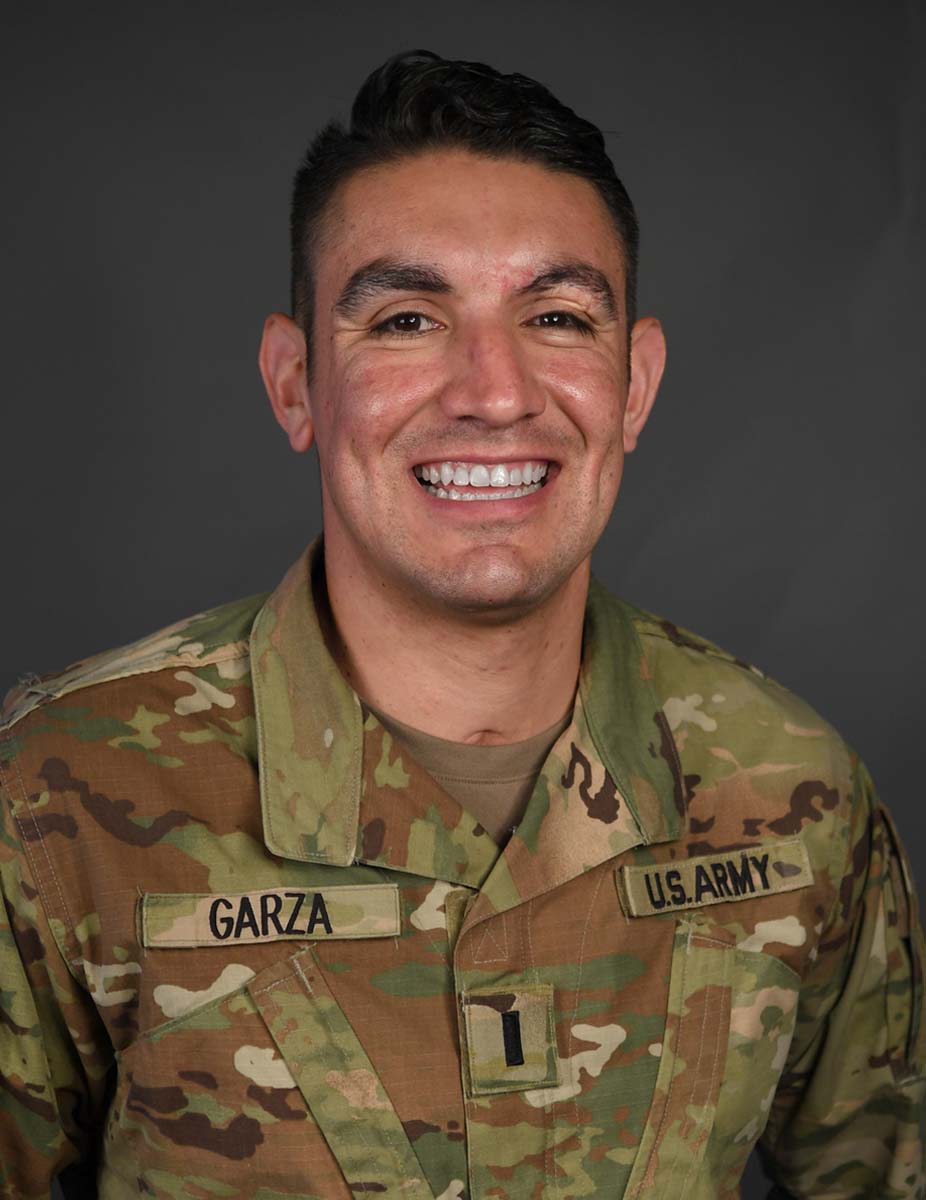 1LT David Garza
Para Soccer
Hometown:
San Diego, California
High School:
Bonita Vista High School
College:
California State University, Dominguez Hills
Joined Army:
December 2013
David's success in soccer started at five years old, and he attended California State University, Dominguez Hills on scholarship. In 2012, a car accident left him in a coma for over five weeks. David endured seven major surgeries, but was told he couldn't play soccer again and would lose his sports scholarship. The Army awarded him an ROTC scholarship, and began to train him for military service. He has been a member of the USA Paralympic National Soccer Team since 2013, and served as a team captain since 2014. His performance in the 2017 World Championships was especially memorable: he played every second of the six games – and his last-minute, game-tying goal led to the highest US Paralympic Soccer finish ever in a major tournament.
I had two dreams as a child: representing my country by playing the sport I love and representing my country wearing the uniform of the United States Army. To be able to do both on a daily basis is truly a dream come true.
Career Highlights
---
Bronze Medal, Copa America.
David bounced back from ankle surgery to compete in Quito, Ecuador, and served as team captain for two out of four games there. After a close 2-1 loss to rival Brazil in the semifinals, the US team took the bronze by beating Colombia 3-0. "Not only did we medal, we also qualified for next year's World Cup in Spain and the Pan American Games," says David.
Participant, World Championships.
The top 16 teams worldwide met in San Luis, Argentina, and David played every second of every game. The US team took 5th in the tournament overall, and ended the tournament ranked #4 globally based on points—a high mark in US para-sport history.....
.... "After losing to England in the quarterfinals, we beat Brazil 3-2, which really built momentum," David says. The last game of the tournament was especially notable: "We were down against Ireland 2-1. Though I'm usually a defender, our coach just let me play anywhere for the last part." David played up the field, and headed the ball into the goal in the last minute of the game.
Paralympian, Soccer
"It was—literally—the dream." That's how David describes his Paralympics experience. "Growing up, I was able bodied, and had always wanted to represent my country on the biggest stage. After my car accident, I'd thought that might be closed to me…and now it wasn't." He had played with the US Paralympic team growing up, and trained with them at their Chula Vista training facility. "I'd always been their #1 fan," says David, "and now I was playing with them in front of the world."
Participant, World Championships.
At Worlds, hosted by St. Georges Park, England, David played defender and midfielder, and led the team's scoring effort with four goals. The top seven finishers that tournament would qualify for the Paralympic Games. "We played Argentina for seventh place," recalls David, "and beat them 4-1, which got us into the Paralympics."
Participant, Pan American Games, Toronto, Canada
Bronze Medal, Copa America.
The Toronto-hosted Copa America was David's first major tournament with the team. They lost 2-1 to Argentina in the semifinals, but beat Canada 3-0 for the bronze. For David, it marked another milestone: his first goal in an international tournament.