Army boxer dominates at 2020 Boxing Olympic Trials, claims welterweight title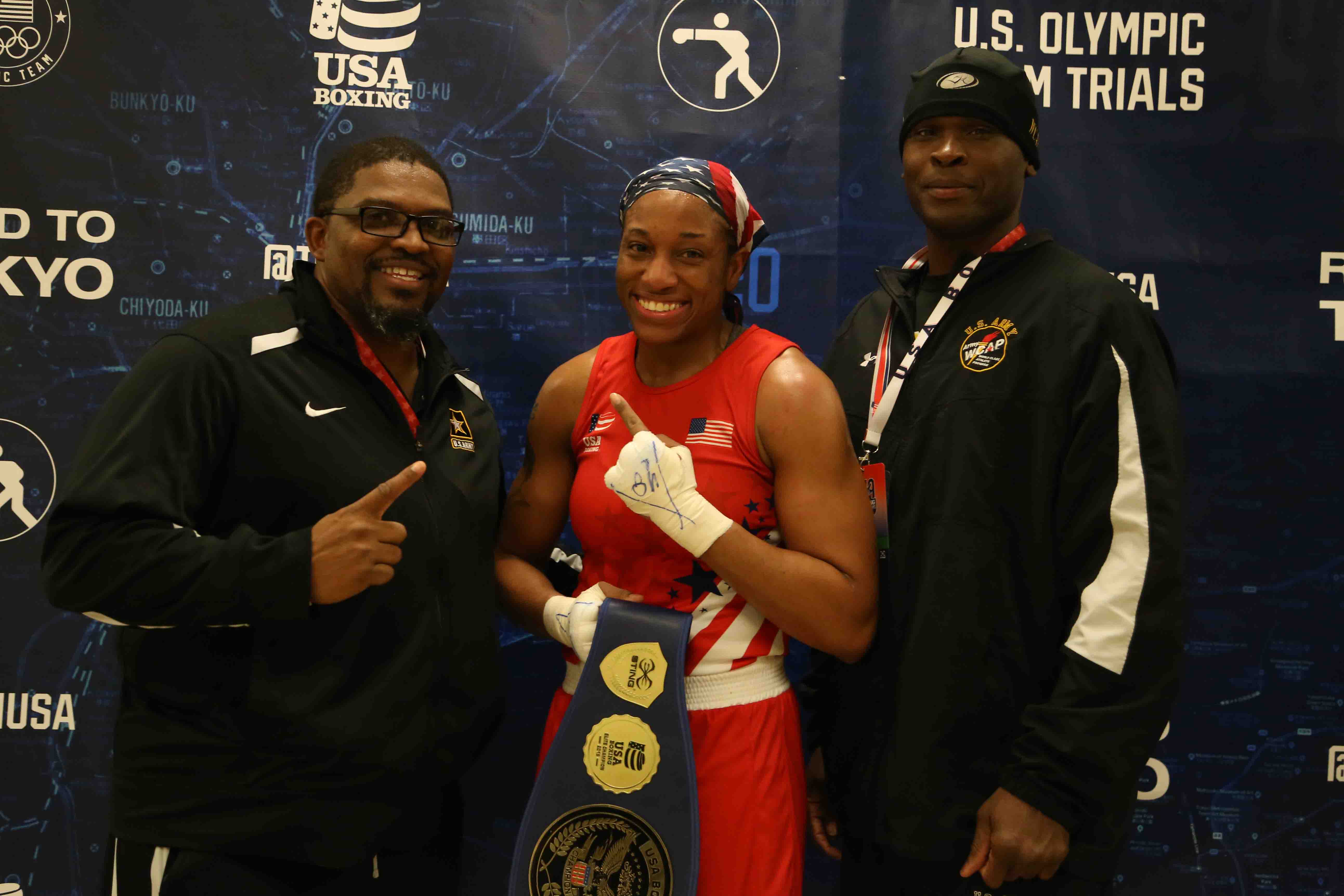 Deleted Page Type Composer Form Element (Block ID %s)
By Maj. Nathaniel Garcia
U.S. Army World Class Athlete Program
FORT CARSON, Colo. (Dec. 17, 2019) — Four years ago, Staff Sgt. Naomi Graham stood in the middle of the ring, suffering the bitter taste of defeat as she witnessed someone else's hand get raised in just the prelims of the 2016 USA Boxing Olympic Trials. Four years later, Graham returned as the No. 1 seed of the 2020 USA Boxing Olympic Trials in Lake Charles, La., more focused than ever and becoming the women's welterweight champion.
"I'm still in awe and overwhelmed a little bit," Graham said. "It really didn't hit me until I got to my hotel room. I sat down on my bed and started to thinking, 'Wow did I really just do this? Did I just win?' I'm not going to lie, I even cried a little bit. All my hard work and determination finally paid off. I mean, there were times when I was injured and I thought to myself, 'Is this all worth it?' I stayed resilient and focused and now I'm the Olympic Trials Champion."
Graham, an ammunition specialist and member of the U.S. Army World Class Athlete Program, rolled over the competition — the top eight female welterweights in the nation — defeating all her opponents by unanimous decision. Graham faced off against Morelle McCane of Cleveland in the welterweight final.
"I had fought her (McCane) last year in the national championship final," Graham said. "I knew that I had grown since the last time we fought. I'm more experienced, confident and in great shape. I feel like I started off slow and stayed with the jab. I wanted to see what she had and in the first round I remember thinking I got this. I feel unstoppable and no one is going to stand in my way of making this Olympic team."
Though she won the U.S. Olympic Trials, Graham will not be officially named to the U.S. Olympic team until she meets the qualification standards. Graham must now prepare for the March Olympic Continental Qualifier in Buenos Aires, Argentina, where she will have to finish in the top three in her weight class in order to earn a slot to participate in the 2020 Olympic Games in Tokyo.
"We are so excited and proud of Graham," Charles Leverette, WCAP head boxing coach, said. "She has worked so hard for this but all the excitement will be short-lived. We are nowhere near the end and it's time for us to get back on the grind. We are already game planning the way ahead and need to keep her sharp and focused for the task to come, which is qualifying her for the Olympic Games."
Graham said she has an amazing support group and was ready to start training again.
"I know the job isn't done yet," she said. "The Army has taught me how to get through tough situations which has made me resilient mentally and physically. So I'm ready for whatever anyone throws at me and I am not going to stop until I am a Soldier-Olympian."
WCAP is part of the U.S. Army's Installation Management Command and allows top-ranked Soldier-athletes to perform at the international and Olympic level while also serving their nation in the military. For more information, visit www.armywcap.com
---