Soldier, Olympic bobsled athlete wears two uniforms proudly
By Susan A. Merkner, U.S. Army Installation Management Command January 30, 2018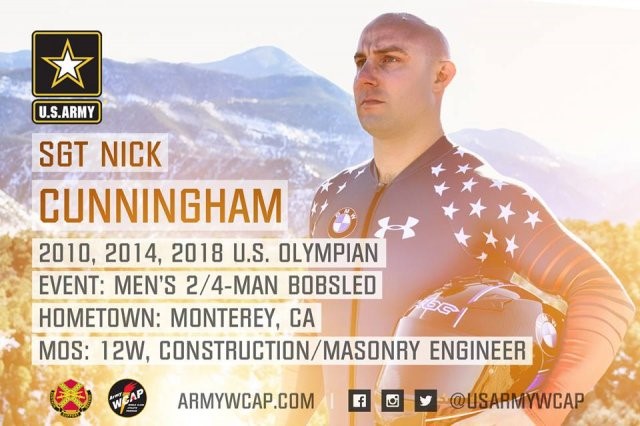 SAN ANTONIO, Texas -- If, as William Shakespeare said, "Clothes make the man," then Sgt. Nick Cunningham's wardrobe reflects a man accomplished in two realms: the U.S. Army and the Winter Olympics.

Cunningham, 32, a member of the U.S. men's two-man and four-man bobsled teams, joined the Army in 2011 and earned a spot in the World Class Athlete Program, which is operated by the U.S. Army Installation Management Command. The native of Monterey, California, is a construction masonry engineer in the Army.

"When I put on my uniform for the first time in basic training, I felt a sense of pride I had never imagined," Cunningham said. "Having the word Army across my chest is something I definitely don't take for granted."