Soldier-athletes bring home wrestling medals from CISM
By Brittany Nelson, IMCOM November 15, 2019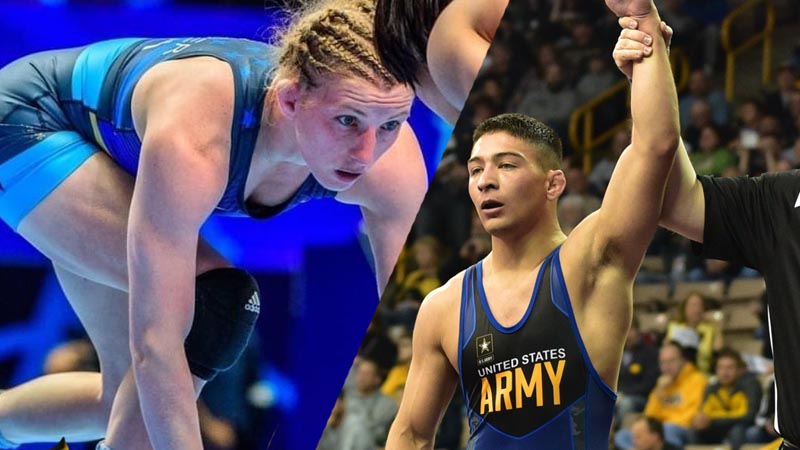 Deleted Page Type Composer Form Element (Block ID %s)
WUHAN, China -- Soldier-athletes in the U.S. Army's World Class Athlete Program brought home three medals in wrestling at the 2019 CISM, International Military World Council, Military World Games.

In Wuhan, China, from Oct. 18 to 27, WCAP Soldier-athletes medaled in all three wrestling categories at the 7th annual CISM games where militaries from all over the world were represented.

"It's a very high level competition, the only competition higher than this, I would say, is the Olympics," said Shon Lewis, WCAP wrestling coach and former WCAP wrestler. "We knew the competition would be stiff and for us to bring home three medals was encouraging and satisfying."

Staff Sgt. Max Nowry earned bronze in the men's 57kg freestyle division, Staff Sgt. Whitney Conder won silver in the women's 50kg freestyle division, and Sgt. Ildar Hafizov received bronze in the men's 60kg Greco-Roman division.

"I am very grateful for the opportunity the U.S. Army has given me," said Hafizov, a three-time U.S. World team member. "Standing on the award podium while everyone is cheering for you and congratulating you was great."

Hafizov said he knew he needed to medal not for himself but for his country. He competed against 16 other countries' militaries in his weight class.

"The coaching staff knew that Hafizov had the caliber to bring home a medal," said Lewis. "It was great to see him flourish and show his potential at a major competition."

All three WCAP Soldier-athletes qualified for CISM through the U.S. Armed Forces tournament in February and continued training through camps. Bronze-medalist Nowry, trains at a high speed.

"I carry a fast pace and try to wear my opponents down," said Nowry, a four time national team member. "I am constantly looking for open opportunities to move forward and push."

Nowry normally wrestles in the Greco-Roman division but competed in freestyle at CISM.

"He wrestled tough," said Staff Sgt. Spenser Mango, WCAP wrestling coach. "He went out and was able to make it to the semifinals at a high level competition."

When asked about how it felt to place in one of the top three spots, Nowry mentioned that medaling is their responsibility as a Soldier-athlete.

"We are expected to win any competition whether it is international or domestic," said Nowry. "We compete at such a high level, we train to win medals."

Competing at elite levels also helps the athletes become better Soldiers according to Nowry.

"With any competition there is a resiliency aspect," said Nowry. "In the process leading up to a competition there are always unexpected things thrown at you, and it will not go as planned. This helps us build resiliency as Soldiers, adapt to changes and continue on with the mission."

Lewis also mentions how competitions benefit his Soldiers.

"The Soldier-athletes gain personal fortitude," said Lewis. "These competitions are nerve racking and they can get into a flight or fight mode; they learn to fight. This also happens on the battle field, you cannot have courage without a little bit of fear."

Conder, a five time U.S. World team member, wrestles with a 'do not stop no matter what mentality' and it lead her to a silver medal.

"It felt amazing to win a medal," said Conder. "To be out there on the mat and represent the U.S. Army is the best thing in the world. I am grateful to have the opportunity to wrestle and be in the Military. WCAP is the most incredible thing I could ever be a part of."

Mango mentioned Conder's persistence throughout the tournament.

"She wrestled great," said Mango, the 2018 USA Wrestling Greco-Roman Coach of the Year. "She had a tough opponent first round and came out on fire. In China we cannot make any mistakes, she was really going for it."

The Soldier-athletes will continue to train at a high caliber as they await the U.S.A. Wrestling Olympic Trails in April.

"Hopefully in six months we will put several Olympic athletes on the U.S. Olympic team in Tokyo," said Lewis.

WCAP, part of the Family and Morale, Welfare and Recreation G9 division of U.S Army Installation Management Command, allows top-ranked Soldier-athletes to perform at the international level while staying competitive with their uniformed counterparts through their military service.

To follow WCAP's road to the Olympics follow @USArmyWCAP and @FamilyMWR on Instagram and Facebook.
---